LANDMARK UNIVERSITY IS COMMITTED TO HER AGRARIAN REVOLUTION, VC TELLS KWTV
The Vice-Chancellor, Professor Aize Obayan led some members of the University Management on a courtesy visit to the Kwara State Television Authority (KWTV) on Friday 26th February, 2016. She reiterated the Management's commitment to the actualization of the agrarian vision of the University. She appreciated the Management of KWTV for the publicity given to the University during her launch of a New Face in Farm Practice. She said that as the University is stepping up efforts towards driving massive food production to eradicate hunger, malnourishment and poverty in Africa, the partnership role of the media in the visionary pursuit cannot be overemphasized. On this basis, the visit to the KWTV was inspired by the commitment of the University to strengthening the collaboration between the two organisations in order to achieve the high visibility profile agenda.
Also speaking, the Registrar, Dr. Daniel Rotimi affirmed that the revolution has started in Landmark University with insightful and purpose-driven programmes to mark the fifth year anniversary of the University. Five, he said, signifies grace, which the University will be appreciating God for. He further remarked that the University in the last four years has moved from one level of glory to another, as demonstrated in the launch of some of her products in Ilorin metropolis, with the prospect of taking over the whole country.
In his response, the Manager, KWTV, Adewale Adebowale urged Landmark University to publicize her products and services, saying people need to have ample knowledge on the products and services in Landmark University. He confirmed that the University has stood over the years to be a major institution of agriculture in Kwara State, whose programmes and products should therefore be projected adequately. The Management of Landmark University later prayed for the KWTV to experience quantum leaps in her operations.
Today @ LMU
Omu-Aran, NGclear sky 21.32oC
See More >>
Subscribe to our Newsletter
Get the latest news and updates by signing up to our daily newsletter.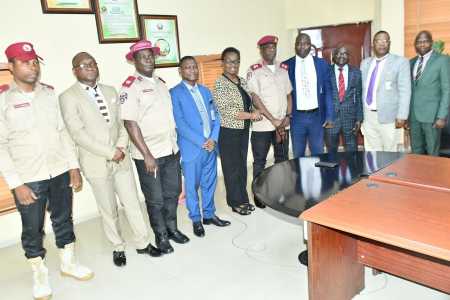 Story of the week
LANDMARK UNIVERSITY RECEIVES NEW FRSC KWARA SECTOR COMMANDER