LANDMARK UNIVERSITY INAUGURATES MORE COMMITTEES
As part of the strategies put in place to drive the attainment of new frontiers in agricultural revolution agenda of the University, the Management of Landmark University led by the Vice-Chancellor, Professor Aize Obayan on Friday, 12th February 2016, inaugurated four (4) committees with a view to enhancing her operational efficiency. The committees are: Ceremonies Committee, Chaired by Dr. Sunday Eze; Repository Committee; Faculty Support Programme Committee, both Chaired by Mrs. Felicia Yusuf; and Curriculum Committee, Chaired by Professor Raphael Olarinoye. The membership composition of the committees has formidable representations to achieve the objectives of the terms of reference and the specific needs of the University.
In her charge to the members of the committees, the Vice-Chancellor appreciated them for accepting to serve in the committees and urged them to explore available opportunities for driving new frontiers in actualizing the agricultural revolution. She also stated that the purpose of reconstituting the committees is to give opportunities to new persons to come on-board and make contributions to the system. While urging them to ensure that nothing short of success is achieved by their performance, she noted that excellence should be their watchword, as only the best is good for God who owns Landmark University and to whom everyone is accountable.
After the reading of terms of reference to members of the committees by the Registrar, Dr. Daniel Rotimi, the Vice-Chancellor officially inaugurated the committees on behalf of the Chancellor and Chairman, Board of Regents, Dr. David Oyedepo. This was, however, followed by the acceptance speeches of the Chairs of the committees, pledging their commitment to the service of the committees for the overall advantage of the University.
Today @ LMU
Omu-Aran, NGovercast clouds 25.45oC
See More >>
Subscribe to our Newsletter
Get the latest news and updates by signing up to our daily newsletter.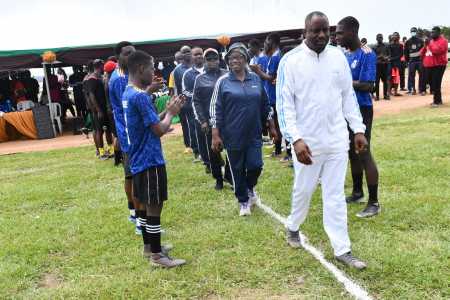 Story of the week
2022 CHANCELLORS CUP KICKS OFF