LANDMARK UNIVERSITY HOSTS DR. OLAYINKA LAOSEBIKAN
As part of her commitment to breaking new grounds, Landmark University is set to forge a collaboration with the Brylyne Chitunga Farms on the rearing of Kalahari red goat. The idea came when Dr. Olayinka Laosebikan, who doubles as a medical doctor and a mechanized farmer based in South Africa, paid the management of Landmark University a visit as a part of his strategies geared towards making agriculture attractive to the youths and stress-free to everyone.
The Vice-Chancellor, Professor Aize Obayan while receiving him, disclosed that the institution will soon embark on laudable projects such as ruminant production, construction of standard abattoirs and a meat processing plant. She enthused that once these new projects kick off, the institution would also serve as an agricultural research centre especially in the area of modern commercial agriculture which would be first of its kind in the country. She revealed that Landmark University Management would partner with Brylyne Chitunga Farms in South Africa on student exchange program for them to have added knowledge on food production, animal science, irrigation, agro-phobic farming, and also encourage them to develop interest in mechanized farming.
Responding, Dr. Olayinka Laosebikan emphasized the need to have a paradigm shift in Nigeria's economy to attain food security for the nation and continent of Africa, noting that Landmark University's frantic efforts in making agriculture a priority is a step in the right direction. He said, "We are trying to look at the microeconomics in Landmark University and how it could impact the world positively, we have to mechanize farming in all the levels." Speaking on Brylyne Chitunga's proposed visit to Landmark University, Dr. Laosebikan said Brylyne is a farmer per excellence whose presence would inspire young men and women in practising modern and mechanized, as well as specialized farming.
The Registrar, Dr Daniel Rotimi expressed the readiness of the school to utilize the opportunity of improving the face of farming in Landmark University to the world standard. He affirmed the University's consistent and practical steps towards becoming a hub of food production in West Africa. He was optimistic that the University will soon become a major food supplier of great repute worthy of emulation in Africa.
Today @ LMU
Omu-Aran, NGclear sky 20.53oC
See More >>
Subscribe to our Newsletter
Get the latest news and updates by signing up to our daily newsletter.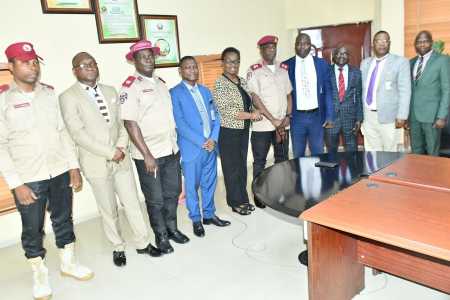 Story of the week
LANDMARK UNIVERSITY RECEIVES NEW FRSC KWARA SECTOR COMMANDER