LANDMARK UNIVERSITY FLAGS OFF A ZERO TOLERANCE FOR UNETHICAL PRACTICES IN EXAMINATIONS
The Management of Landmark University led by Professor Aize Obayan launched a campaign tagged "Zero Tolerance for Unethical Practices in Examinations" as part of her frantic efforts towards maintaining excellence, integrity and spirituality that define the uniqueness of Landmark University.
The event, which took place during the Tuesday and Thursday Chapel Services on 12th and 14th January respectively, witnessed a major presentation by the Chair, Examination Committee, Dr. M.O. Bamiro, who articulated the present and future implications of unethical practices in examinations on the University system, the nation and the world at large. He asserted that Landmark University is a God owned institution with a compelling mandate of doing only what will delight God, hence the adherence to departure philosophy of the University, and insistence on a Zero Tolerance for Unethical Practices in Examinations. He added that Landmark University, an institution avowed to raise a new generation of leaders cannot afford to raise leaders that lack integrity. He concluded by citing from I Peter 2:9, "It is an abomination for a king to commit wickedness". Therefore, Landmark University students, "Kings and Queens" as they are fondly called, were charged to see examination malpractice as an abomination before God which should be clearly avoided.
The Chair, Student Council Representative, Mr. Olaniyi Ademuyiwa described Landmark University as an institution founded on covenant principles which cannot afford to be associated with any form of examination malpractices. He therefore urged the student body to embrace the change, a new culture of alignment with ethical practices in examinations.
In simplicity, the Registrar, Dr. Daniel Rotimi remarked that zero tolerance implies no tolerance at all and as a result, all students, faculty and staff are entering into a covenant to forestall unethical practices in examinations.
In her remarks, the Vice Chancellor, Professor Aize Obayan, said that the University is embarking on a fundamental project which is in alignment with the Institution's Core Values. While thanking God for the success recorded in the previous examinations, she emphasized that "as a community, we are ready to drive zero tolerance for unethical practices in examinations". She also added that the launch of the project was a great way to approach the examination season, "knowing that we avoid anything that will compromise our future and the entire University". She appreciated the Chair, Examination Committee, Dr. M.O. Bamiro, for his diligence in driving quality conduct of examinations in the University over the years. She concluded by quoting the immediate past President of South Africa, Thabo Mbeki, "Africans will continue to be the subject of ignominy and contempt until such a time when they become demonstrable masters of their own destiny"
The project of a clean white bill board, with the inscription of Zero Tolerance for Unethical Practices in Examinations, was unveiled by the University Management, led by the Vice Chancellor, Professor Aize Obayan. The Vice-Chancellor took the lead in appending her signature on the board signifying a formal and spiritual covenant to abide by the University's policy on Zero Tolerance for Unethical Practices in Examinations.
The event was crowned with the ministration by the Chaplain, Pastor Adekoya Ayotunde, on the subject, "unveiling the wonders of Fasting and Prayer". He stated that understanding is a gateway to a true-living in the kingdom (Ps. 119:144). "It is therefore expedient to understand the wonders that lie in fasting and prayer as we journey on this 21-days waiting on the Lord", he inspired the congregation. He highlighted the wonders in fasting and prayers: relevant forces (power) are required to make a meaningful change in life – Mat. 17:21, spiritual barriers are rolled away, evil occurrences are averted – Acts 23:12-14. He also put what could make prayer and fasting work as fervency in request for miracle desired (James 5:16) and living a life devoid of offences (Ps. 66:18). The Chaplain concluded his ministration with this counsel and declaration of blessings on the University community.
Today @ LMU
Omu-Aran, NGlight rain 21.58oC
See More >>
Subscribe to our Newsletter
Get the latest news and updates by signing up to our daily newsletter.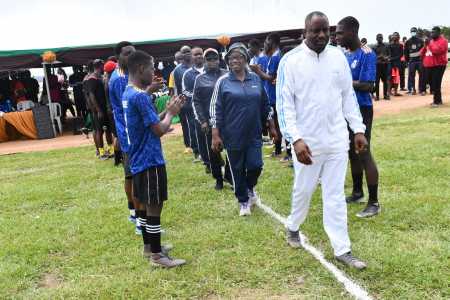 Story of the week
2022 CHANCELLORS CUP KICKS OFF