LANDMARK UNIVERSITY FARM PRODUCTS STORM ILORIN
Landmark University launched her products awareness campaign in Ilorin, Kwara State, on Friday 26th February, 2016. Some of the products exhibited at the maidenmarketing campaign included theFADAMA brown rice, grilled and frozen chicken, eggs, dry and fresh fish, processed snail, and bread. The Ilorin Outreach fondly tagged "M-gelism", recorded a massive turn out of people and availed them the opportunity of interacting with the representatives of the University on the products and services available at the first private agriculture-based University located in Omu-Aran.
The sales team led by the Vice-Chancellor, Professor AizeObayan, arrived the Landmark University sales outlet at the former Midland building along Emirs Road, Ilorin, at about 9:00am, where the awareness campaign on the University products took place. Expectedly, many residents participated in the fair, demonstrating eagerness to know more about the University and her products. Some of them who commented on the products said that they were looking forward to witnessing more of such marketing outreaches from Landmark University,describing the outing as a rare privilege given to the city dwellers to purchase fresh farm produce at affordable prices.Consequently, some traders in staple foods registered with the University as potential customers and distributors of her farm products.
Addressing the people, the Registrar, Landmark University,Dr. Daniel Rotimigave an assurance that the sales team would be in Ilorin every fortnight,adding that the products would soon becomehousehold items, because the school is intensifying efforts atmaking themavailable in large quantity and affordable to all and sundry.The team later proceeded to Offa Garage area to sell the products and staged more awareness campaign before returning to Omu-Aran. It was a well thought-out sales driven campaign with a trail of expressions of impressive support for the University's marketing strategies and acceptance of her products from the external context.
Today @ LMU
Omu-Aran, NGclear sky 19.71oC
See More >>
Subscribe to our Newsletter
Get the latest news and updates by signing up to our daily newsletter.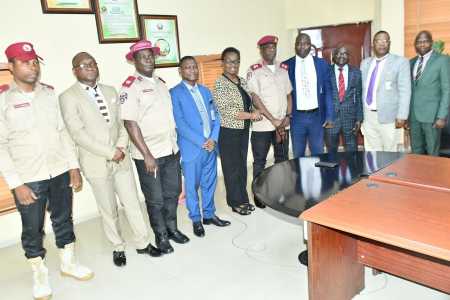 Story of the week
LANDMARK UNIVERSITY RECEIVES NEW FRSC KWARA SECTOR COMMANDER