LANDMARK UNIVERSITY COMMISSIONS THE BRAND MANAGER'S OFFICE
In line with the vision to become a world-class institution, the Landmark University Management led by the Vice-Chancellor, Professor Aize Obayan has formally commissioned the Office of the Brand Manager headed by Dr. Sunday Eze. Inaugurating the office on Friday 12th February 2016, the Vice-Chancellor said that branding is a necessity for a University that leaves no stone unturned in forging linkages and collaborations with reputable organizations in a bid to attain new frontiers in driving agricultural revolution.
Responding, the Brand Manager, Dr. Sunday Eze who described branding as the ability to bring out something which has never existed and been done differently from others, pledged to work tirelessly in promoting the image of the institution positively and make the impact known globally.
The Office of the Brand Manager is saddled with the responsibility of rebranding, reinventing, corporate representation, best practices and world-class representation of the University. It is hoped that the activities of the office would culminate in the full-fledged Directorate in the nearest future.
Today @ LMU
Omu-Aran, NGclear sky 19.27oC
See More >>
Subscribe to our Newsletter
Get the latest news and updates by signing up to our daily newsletter.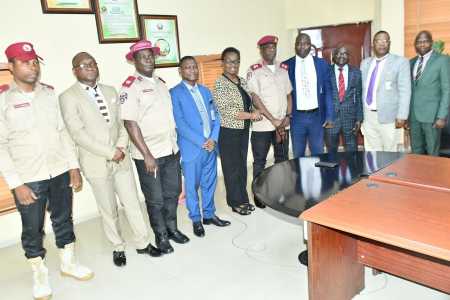 Story of the week
LANDMARK UNIVERSITY RECEIVES NEW FRSC KWARA SECTOR COMMANDER