LANDMARK UNIVERISTY CELEBRATES WORLD FOOD DAY
Landmark University joins the rest of the world to celebrate the World Food Day on Friday 16 October 2015.The World Food Day (WFD) was established in November 1979 with the sole aim of raising awareness of the issues behind poverty and hunger. The theme for this year, Social protection and Agriculture, took the center stage of discussion in the Landmark University that is committed to promoting agrarian revolution as a panacea for food challenges besetting the society.
In a special event commemorating the Day, some members of the University Community were interviewed as flagged below.
Dr. Adekiya of the Department of Crop and Soil Science spoke extensively on how to achieve availability of food for all and sundry in the nation. He maintained thatAgriculture is still the only sector worldwide that provides the much needed food for human existence and essential raw materials for industries. He submitted that Agriculture is a food security guarantor divinely ordained by God for the sustenance of creation.
King Olaniyi Ademuyiwa, a 500 Level student of the Department of Crop and Soil Science, also noted that many graduates of Nigerian Universities – after enduring the trauma of incessant disruption of academic activities and dearth of learning infrastructures – roam the streets for many years without jobs. After series of futile attempts to legitimately make ends meet, they turn to crimes and vices – internet scam, fraud and human trafficking, kidnapping for ransom, robbery for survival purposes. This could be prevented by designing a tertiary education curriculum that will equip students with practical entrepreneurial skills and innovations that will make them self-reliant, wealth/job creators and not job seekers upon graduation to reduce "over-dependence" on government and this is what Landmark University has come to do.
King Akpo Victor, a 100 level student of Agricultural and Biosystems Engineering also affirmed that promoting agricultural sector is the only solution to solving food insecurity in Nigeria.
King Agboli Peter Caleb, a 500 level student of Crop and Soil Science Department appreciated Landmark University's drive towards agrarian revolution which will boost food production in Nigeria.
The corporate and public affairs department interacted with the Director, Landmark University Farms, Dr. John Izebere, on the theme of this year's celebration as flagged below.
Question: As the Director, Landmark University Farms, what is your take in this celebration with the theme 'Social protection and agriculture'?
DLUF: Landmark University is a visionary University set up to tackle food insecurity challenges in African continent thereby restoring the dignity of the black race. As we celebrate the world food day, we are more conscious of our relevance in the agenda of God for this end time. My take is that everybody should realize the relevance and importance of being a producer of food no matter what it is, a little garden at your backyard and also be a supporter of those who are farmers. Farming is no longer a poor man's business, it is what the world needs. Everybody eats, even today the whole word will eat; as long as you are alive and well you will need food. I believe that this is a good development; we should join the world to celebrate the Day.
Question: what is the social protection that we intend to gain from the availability of food in the world?
Social protection from food is essentially what you have, for instance if you are fed and satisfied with food, there will be no reasons for you to go into social vices that will now make you a social menace. If you are well fed there is no need to succumb topeer pressure that will make you do what is not right. If you are well fed diseases and sickness will be limited as your immune systems will be higher. You know that when you feed well you have this mindset that you are somebody; you believe that you have what it takes and you won't be looking down on yourself. You have the energy to tackle the task ahead; then the society will be generally safe.
Question: The theme for this year is Social protection and Agriculture, and Landmark University is projecting agriculture as the mainstay of the nation and as that which will propel Nigeria to the part of self-reliance, in this World Food Day, what advice do you have for the country, Nigeria to ensure that agriculture is given its place of pride in the nation?
Focus is crucial in policy making, what we have found in Nigeria is that policies come and go and there is no sustainability because of the political or personal interest.
Agriculture is needed by everyone and the policy to promote it should be supported by everyone whether it is from your political party or not because as long as you eat you should promote agriculture. My advice for the nation is that we should all focus on what will be benefiting not just for our generation but for generation yet unborn. If we have a nation that can feed her people, then the upcoming generation will live to bless the predecessor that made this happen. My advice is that polices that help to bring about the social wellbeing of our people should be driven by everyone concerned whether you are in the government or in private oganisation. Let me end with the saying of the Chancellor of this University "No matter how educated you are, you cannot do without food," so in this World Food Day, we are saying: FOOD FOR ALL, BY ALL.
Today @ LMU
Omu-Aran, NGclear sky 20.53oC
See More >>
Subscribe to our Newsletter
Get the latest news and updates by signing up to our daily newsletter.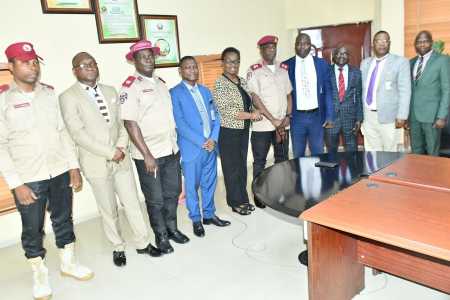 Story of the week
LANDMARK UNIVERSITY RECEIVES NEW FRSC KWARA SECTOR COMMANDER