LANDMARK UNIVERSITY CELEBRATES HER FIFTH FOUNDER'S DAY ANNIVERSARY AMIDST POMP AND PAGEANTRY
Landmark University celebrates her fifth years of existence with pomp, pageantry and jubilations on 21st March 2016, when the University community expressed profound gratitude to God for His faithfulness and Grace in the operations of the University till date. It was a colourful celebration at the cocktail party where the Chancellor, Dr. David Oyedepo admonished all the participants to avail themselves of opportunity around them no matter the prevailing circumstances. He asserted that "the outcome of one's life is essentially a product of self-commitment to one's vision, so a giant is made out of his/her vision. The prevailing circumstances might want to overpower your vision; but if you want your vision to have capacity for expression, you must be totally committed to your vision." He reiterated the need to promptly respond to vision's call as delay might endanger the vision in the long run, adding that one's ideas might be bright and brilliant but it takes proper calculation to give it expression. He emphasized that "vision is a task, and every true visionary is on the task to better her life, because visionaries are people of specifics. My life and your life is not depending on how right the people or the government, what matters is our contributions. " He concluded his charge by calling on all and sundry to join the solution thinking army that makes contribution a lifestyle.
Present at the cocktail party were members of the Chancellor's entourage, members of Management, Professor Shalom Chinedu and Professor Louise Egwari. Later in the evening, the University community converged at the Multipurpose Hall for a thanksgiving service which featured a praise and worship session, short drama ministration, song ministration by the Tabernacle of Psalms and special presentation by the Word Casters. In his message, the Chancellor, Dr. David Oyedepo also charged the University community on having a heart of gratitude in recognition of God as the doer of the good things that has been happening in Landmark University. He encouraged everyone to embrace timely thanksgiving, which is the only expression of gratitude that counts.
Today @ LMU
Omu-Aran, NGfew clouds 27.03oC
See More >>
Subscribe to our Newsletter
Get the latest news and updates by signing up to our daily newsletter.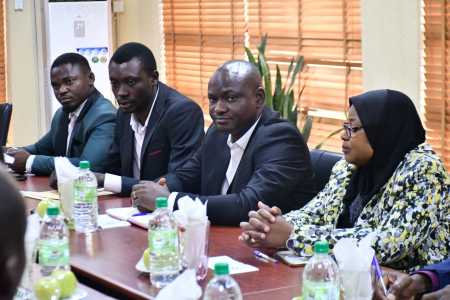 Story of the week
SON KWARA STATE SEEKS COLLABORATION WITH LANDMARK