LANDMARK HOST KWARA STATE INTERNAL REVENUE SERVICE (KWIRS)
On 14th January 2016, the Vice-Chancellor, Professor Aize Obayan hosted a team of the Kwara State Internal Revenue Service (KWIRS) who came to pay a courtesy visit to the University.
Professor Obayan in her remarks identified financial services platform and its related units as very vital sector in the society as she charges government at all levels to look into different ways of driving a viable economy through revenue generation. She noted that the Nation would only do better if every sector can pay attention to that direction, stressing that Nigeria needed better infrastructure and welfare packages which can only adequately be realized through revenue generation. She further stressed the need for sincerity on the path of government in utilizing revenues generated through taxes, adding that the burden however should not be placed on the government alone, but public private partnership should also be encouraged by the sector. She urged them to explore other sectors of the economy in collaboration with the traditional rulers while encouraging them to play down on the Non-Governmental Organizations and Private Education Sector in other to encourage people to invest in such areas. She affirmed the institution's Zero tolerance to unethical behaviors saying "Landmark being a responsible corporate entity is working to ensure that they make bold statement against anything unethical ranging from examination malpractices to tax evasion and other vices."
The leader of the team KWIRS Mrs. Adebola Oyeyiola said the visit by the team was to appreciate the compliance of the institution in paying their taxes. She urged other organizations and establishments to emulate Landmark University.
Today @ LMU
Omu-Aran, NGclear sky 19.71oC
See More >>
Subscribe to our Newsletter
Get the latest news and updates by signing up to our daily newsletter.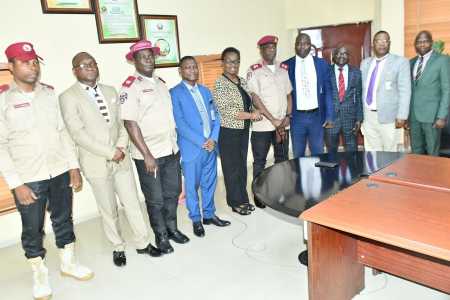 Story of the week
LANDMARK UNIVERSITY RECEIVES NEW FRSC KWARA SECTOR COMMANDER