KYUNGPOOK NATIONAL CONSORTIUM SEEKS COLLABORATION WITH LMU ON SOLAR ENERGY SUPPLY
On Friday 30th November, 2018, Landmark University received a Korean consortium comprising industry and academic experts from Kyungpook National University, Korea Southern Power Corporation, STY Energy and Korea EPC to deliberate on solar energy supply and smart agriculture development in the University towards the actualization of the agrarian mandate. The collaboration aimed at making Landmark University own its energy supply and also enhancing agricultural practice in the University.
While welcoming the team led by Professor Huh Soo of the Department of Climate Change, School of Material Science and Engineering, Kyungpook National University, Korea, the Vice-Chancellor, Professor Adeniyi Olayanju underscored the vital role of power to meaningful development whether in an organization or the society as a whole. He noted that: "if the drive to achieve Sustainable Development Goals is real in the society, premium is sacrosanct on reliable energy generation and supply." He said that the University's continuous quest for a reliable power supply supportive of uninterrupted developmental and research activities informed the management's consideration and deliberation on the proposed Solar Photovoltaic Project and Smart agriculture technology.
In his response, the Chair of the Consortium, Professor Huh Soo, expressed his team's readiness share the Korean technology with Landmark University. He noted that Korea has garnered appreciable experiences in technology which qualify them to offer such services to other nations of the world. According to him, Korea rose from the rubbles of the Korean War with a deliberate focus on the development of education to make room for other developments such as in the petroleum, automobile among others. "So, we can work together by sharing our experience, our technology because Korea has some experience of development from the primitive stage to the present advanced stage of technology industry. We have come with some of the companies that have the competence and competitiveness to deliver the desired technology for your development," he added.
Speaking on their solar hybrid solutions, Mr. Butu Mark, who is a member of the team and research at the KNU, said that their consortium is particularly keen on selling electric power to organized residential estates, factories, small businesses existing in clusters, sawmills, hotels, banks, shopping malls and other entities that consume bulk of their energy need during the day and Landmark University is not an exception, having identified the challenges of erratic supply from public mains and poor institutional support for power infrastructure development among other banes of electricity supply in Nigeria. He said that solar energy has comparative advantages over alternative power sources that are commonly used in Nigeria. According to him, solar energy has the capacity to supply adequately all the energy needs of any business since most business activities take place during the day with a minimum of 20 years and sometimes 25 years lifespan. He added that businesses could make more accurate predictions about their business costs for longer terms because the cost of installing a solar micro-grid is relatively known and fixed. In the same vein, businesses can own its power supply and even supply the power needs of nearby users as a stream of extra revenue.
In the same vein, Professor Huh Soo introduced the smart agriculture technology, Agricultural DB Solution with Drone, to the management of the University. He said the UAV Drone is proven to be very efficient for modern agriculture having a high precision image and accurate GIS with low altitude picture measurement, farm and fruit productivity monitoring (River levee, Water reservoir monitoring), maximum 3.5 hours operation, GPS accuracy in 1cm order, and Autonomous flight control. He added that the drone also has Versatile measurement reports and capacity for 3D measurement, profile area, volume calculation (single/multi curvature, contour line, classification, draft ortho-photograph).
Others in the team were Jin Hyun, an Associate Professor at KNU; Owolabi Babatunde and Benyoh Nsafon are researchers at KNU. Others included Hur Yup, the Manager of S.T.Y. Energy Co., Ltd.; Lee Jong and Kim Ho, General Manager and Deputy General Manager of Korea Southern Power Co., Ltd. (KOSPO); and Jeon Mae, President, Korea EPC Co., Ltd.
Today @ LMU
Omu-Aran, NGclear sky 20.37oC
See More >>
Subscribe to our Newsletter
Get the latest news and updates by signing up to our daily newsletter.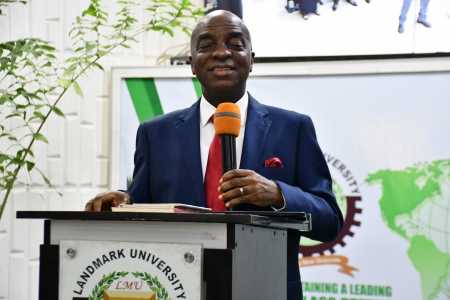 Story of the week
LANDMARK HOLDS 2022 STAFF EXECUTIVE ADVANCE