LMU VC DELIVERS KEYNOTE SPEECH AT KWASU ENTREPRENEURSHIP CONFERENCE
The Vice Chancellor of Landmark University, Professor Adeniyi Olayanju delivered a Key note speech at the Opening Ceremony of the 8th International Conference on Entrepreneurship management and Innovation, 2019 at Kwara State University, Malete on Monday, 1st July 2019.
The speech titled "Tertiary Institutions-Industry-Government Collaborations (Triple-Helix Model); Key to Entrepreneurship, Economic and Social Development" reiterates the meaning, scope and importance of entrepreneurship in a nation's economic development. He states that it is imperative to shift from mere invention to innovation to engender national development. This can be achieved through the creation of value-chains on engineering products from production to marketing, strengthening town-gown synergistic relationship and glocalisation of research products. Prof. Olayanju further emphasis that in the training of students and generating theoretical knowledge, tertiary institutions should be able to transfer their knowledge to the relevant sectors so that it is used efficiently within the economy. Also within the triple-helix model, government has a facilitator role, through the regulatory and policy framework that facilitates synergy between industry and university.
The event which also doubles as an avenue to celebrate the contributions of KWASU pragmatic Vice-Chancellor, Professor Abdulrasheed Na'Allah who has been newly appointed as the Vice-Chancellor of University of Abuja witnessed dignitaries like the Vice-Chancellor of Alikmah University, Professor Taofik Ibrahim, KWASU DVC Admin, Professor S. S. Mahmud, the Director, Centre for Entrepreneurship, KWASU, Dr. Sunday Ojo and the MD/CEO of KAM Holdings Group, Dr Kamorudeen Ibitoye Yusuf. The members of Landmark University on the Vice-Chancellor's entourage are Dr S. O. Dahunsi (Director, Vice-Chancellor's Office), Mr. Femi Adetifa, Operating Manager, Landmark Entrepreneurship Centre and Engr. Atoyebi Olumoyewa.
Today @ LMU
Omu-Aran, NGlight rain 29.25oC
See More >>
Subscribe to our Newsletter
Get the latest news and updates by signing up to our daily newsletter.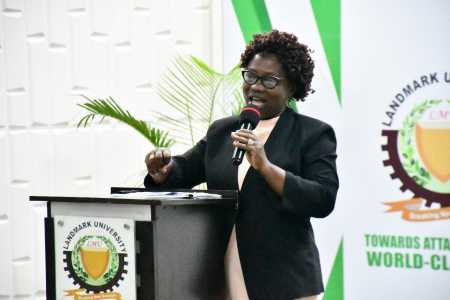 Story of the week
ACTING VC UNVEILS URGENT ACTION PLANS TOWARDS VISION REALIZATION