VC COMMISSIONS SWEP KILN PROJECT
On Tuesday, 21st August 21, 2018, the Vice-Chancellor of Landmark University, Professor Adeniyi Olayanju, commissioned the 2017/2018 Student Work Experience Project (SWEP) as a pointer to giving the Engineering academic content of Landmark University a practical approach with proof of product. In this direction, the Commercial Farms Management in collaboration with the Engineering students who were on the SWEP 2018 exercise for a period of 7 weeks made a Fish Smoking Kiln as a contribution to the agrarian mandate of the University.
At the commissioning of the Smoking Kiln with 400 fishes capacity, the Vice-Chancellor noted that every new assignment demands a new commitment and approach, so also is it required in the University's vision of becoming a leading world class institution by spearheading an agrarian revolution on the African continent through the exploration of hidden treasures in the mother-earth. "You do not dig out hidden treasures with bear hands, else your hands would bleed or blister and you cannot drive agrarian revolution without mechanization which makes all Engineering discipline relevant in its actualisation. He admonished the Engineering Faculty to be more involved in the execution of the University Projects with commitment.
In appreciation to the Management, the immediate past Dean, College of Science and Engineering, Dr. John Ojediran noted that the support of the Management led to the success recorded on the project. He stated that the College is determined not to have projects that would be kept in the archives but that rather relevant to the vision of the University. The Pioneer Dean, College of Engineering, Professor Christian Osueke, also appreciated the Management and promise to sustain the legacies of the immediate past Dean.
Speaking earlier, the 2017/2018 SWEP Coordinator, Engr. Banji Adedayo and Secretary, Engr. Olumoyewa Atoyebi appreciated the support of Management and confidence reposed on the students to embark on such a project. They said 209 students divided into five different groups and supervised by professional Engineers, Technologists and Technicians were involved from conception to delivery of the project. The Commercial Farm Manager, Mr. Oluwatosin Dada who was on ground to take delivery of the project on behalf of the University Commercial Farms appreciated SWEP for the Kiln and thanked God for the project.
The Vice-Chancellor, Professor Adeniyi Olayanju at the Project Commissioning

The Front View of the Developed Smoking Kiln

The Pioneer Dean, College of Engineering, Professor Christian Osueke speaking on the project

The Vice-Chancellor, Professor Adeniyi Olayanju handing over the Smoking Kiln to the Commercial Farm Manager, Mr. Oluwatosin Dada

College of Engineering Faculty in a group photograph with the Vice-Chancellor
Today @ LMU
Omu-Aran, NGclear sky 19.71oC
See More >>
Subscribe to our Newsletter
Get the latest news and updates by signing up to our daily newsletter.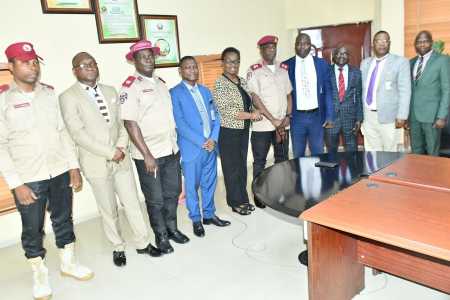 Story of the week
LANDMARK UNIVERSITY RECEIVES NEW FRSC KWARA SECTOR COMMANDER