LANDMARK UNIVERSITY IS OPENED TO COLLABORATION
These were the words of the Vice-Chancellor, Professor Adeniyi Olayanju when he received the Newly Appointed Vice-Chancellor, Joseph Ayo Babalola University (JABU), Professor Kola Sonaike and a Member of board of Trustee of the Univerity, Mr Tunji Iyanda during their courtesy visit on Thursday, 11th November, 2019. He emphasized that Landmark has a clear vision poised to be a leading world-class University by spearheading an agrarian revolution through the exploration of the mother-earth thereby restoring the dignity of the black race.
Noting further, Professor Olayanju said that the two institutions (LMU and JABU) have similar passion for Youth Development. While JABU looks at developing their students in entrepreneurship, Landmark Focus is Agrarian that led to the Certificate programme in Agripreneurship which has already been launched by the Chancellor of Landmark University, Dr. David Oyedepo. "Here irrespective of the course you are studying, agripreneurship is a compulsory course content that will help the youth understand the business angle of agriculture and we want to assure you that we are opened to collaboration.
According to him, the inability of Africa to feed herself, the challenge of low agricultural yield, shortage in job opportunities, and restoration of the dignity of the Black race, necessitated the emergence of Landmark University in the education landscape to challenge the status quo and tackle myriad of issues besetting Africa, chief of which is food insecurity. In his words "the Landmark University Agricultural Revolution is geared towards attaining new frontiers in driving the rebirth, national transformation and rejuvenation of our education values via phenomenal contribution to the process of restoration of the dignity of the black race. Our unique curricula are structured towards developing academic, agricultural and entrepreneurial models that will help accomplish our vision, in terms of designing a production line that will guarantee our desired end product. Landmark University is poised to unlock the doorways into an agricultural revolution for the 21st century".
In his remarks, the Vice-Chancellor, JABU, Professor Kola Sonaike while appreciating the splendid ambience Landmark provides in terms of environment and facilities stated that he has been privileged to visit so many Universities but Landmark is indeed different. He said his institution desires expansion in its agrarian project and felt Landmark as the first private University of Agriculture is the right place to visit for collaboration and cross fettilization of ideas. He thanked the Vice-Chancellor for not seeing JABU as a competitor but partner, which to him is a gesture well appreciated by the JABU community and his visiting team. He stated that JABU in its mission statement is committed to providing excellent teaching, research and service that will encourage learning and stimulate academic exchange at both national and international fora with undergraduate, postgraduate and professional programmes of finest quality.
Today @ LMU
Omu-Aran, NGclear sky 18.84oC
See More >>
Subscribe to our Newsletter
Get the latest news and updates by signing up to our daily newsletter.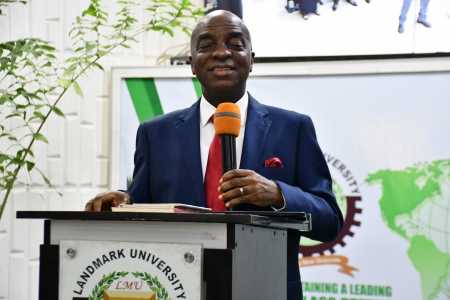 Story of the week
LANDMARK HOLDS 2022 STAFF EXECUTIVE ADVANCE