INTERVIEW WITH STUDENT AND PATHFINDER LEADING AGRARIAN REVOLUTION
"A revolution without a proof along the line is like a room without a roof," says a wise man. As the first Private University of Agriculture that is leading a world class revolution across the agrarian landscape, Landmark University is envisioned to end hunger and totally restore the dignity of the black man. Our graduates, christened 'Pathfinders' are groomed to make food available wherever they live in the world. The story of Lydia Mang, a First Class Graduate of Agriculture and Nwosu Beneth Chukwuma, a 500 level student in the Department of Agricultural and Bio-System Engineering is a proof of the vision that birthed the University. The assertion of Stephanie Van Hook (2012), reechoes our commitment in every way, "Starting a revolution is like lighting a match; it risks becoming extinguished as quickly as it was lit. Sustaining a revolution, however, is like starting a fire, and ensuring that it has the fuel to burn as long as necessary. As an agent of change, I need that fire for as long as it takes for results to emerge, otherwise, I risk burn-out. How can we tell if our flame will prevail? We can know by checking our hearts: either we are burning with hatred and blame or with compassion and love."
The excerpt below would awake your horizon in every way:
A 500 LEVEL STUDENT OF AGRICULTURAL AND BIO-SYSTEM ENGINEERING COMMENCES HUGE FISH FARM
Can you tell us a little about yourself?
My name is Nwosu Beneth Chukwuma. I am a 500 Level student in the Department of Agricultural and Bio-System Engineering. I was born on the 2nd December 1993. I am from a family of four, the first child and the first son of my family. There are 2 boys & 2 girls in my family.
What motivated you into Farming?
First of all, I'd like to thank the almighty God for His grace and His infinite mercy upon my life. It all started during the period I was suspended for one academic session. Rather than giving up, I decided to maximize my time as I was being led by the Holy Spirit after 3 days of prayer and fasting to read the book "MAXIMISE DESTINY" by the Presiding Bishop of Living Faith Church Worldwide, Dr. David O. Oyedepo. After the successful completion of that book, my mentality changed; behold the vision of Agricultural Revolution in this nation was revealed to me which is in line with the vision and mission of Landmark University. Along the line I keyed into the vision by engaging in fish farming irrespective of the fact that I encountered several challenges. They however made me stronger as I overcame them by the special grace of God. I have gained a great deal of experience in fish farming because I interact cordially with farmers who have 10-15years of experience in the business. God blessed me with 8 earthen ponds in two and half plots of land in Ogun state and 8 wooden troughs in my house majorly for fish production (Breeding). These were initially managed by me alone before I decided to employ 5 workers as I got set to resume back to my School. I supply fishes to Lagos and Ogun State as well as Benin republic. I was able to pay 70% of my school fees from Fish farming.
Has the vision of the University impacted you in any way?
Yes, it has impacted me deeply. The vision and mission of Landmark University have made me have a positive mindset as a youth towards farming. This has given me a platform to excel, promote self-reliance and drive agrarian revolution.
What is your advice for students who want to venture in agribusiness?
I'll give them full encouragement and support. In fact, one of the major problems we are facing in this nation is the lack of interest of the youths in agriculture. I discovered that majority of farmers are the retired officers joining the stark illiterate in the business of farming; hence the youths see farming as a "poor man business". This is a wrong perspective and the negative mindset of our youths towards agriculture must be changed. I advise them to make the best out of their time by engaging in productive thinking. Food crisis is a global concern due to the wrong mindset of Nigerians. Let us not just relax and expect a change but let's make that change happen. The road to success comes through hardwork, determination and sacrifice. The fear of the Lord is the beginning of wisdom, Deu1vs28; Matt 6vs33 propelled me into supernatural insights, creative ideas and success. I hope to see you all at the top my fellow students as solution providers. Thank you very much.
How were you able to fund it?
After I caught up with the vision, I informed my mum about it. She never believed initially that I could suggest such a thing irrespective of the fact that she hasn't recovered from the shock and disappointment of suspension from school in my final year. All along she stood by me. Being a farmer (poultry farmer) who has been in the profession ever since I was born and also a distributor in feed mills, she therefore linked me up to the branch office of an Israeli company that deals majorly in the supply of fish feed. I had some money in my fixed deposit account which I had to collect in order to pursue my academic dreams.
Thank you for your time!
You are welcome!
FIRST CLASS AGRICULTURAL PATHFINDER SET TO ESTABLISH FARM
My name is Lydia Mang, from Mangu L.G.A., Plateau state. I am the last born of six and I have always dreamed of being great and doing great things. I do have specific goals and plans that would help me achieve my dream. And I know that everything I plan and hope to achieve can only be achieved with God leading me, and that is my whole foundation.
Why did you choose Landmark University?
I would say that I did not choose Landmark but Landmark chose me; because a lot of odds were against me coming here, but somehow, I overcame them. Before I came to Landmark, all I had were ideas and thoughts (great ones, to be sure), but I was not motivated to do anything about them. As soon as gained admission into the Landmark University, I began to get a lot of motivation and I began to find direction.
Why Agriculture and not Medicine?
To be honest, I didn't really have a specific career plan before I gained admission into Landmark University. So, when my Pastor advised me to come to Landmark University to study Agriculture specifically, I didn't have any problem with his suggestion.
What are your intentions now that you are a Pathfinder?
My plan now is to start building my farm project. I had been farming even before I came to Landmark. I have a new drive to expand and make a career out of it. I want to start with something that is relatively easy to manage before my service and that would be a fish farming. While I was in Landmark, I gathered a lot of information on many Agricultural enterprises. I have decided on specific crop products, mainly perennial fruit crops and those crops that tend to be seasonal; my plan is to help balance and regulate the prices of these crops throughout the year. I want to go into mixed farming because both animal and crop products are important and also it would reduce the cost of production in the long run. The land to start is available right now, but I plan to expand; thanks to the loan that the Chancellor has made available to Pathfinders. If I am able to access it, my plans for expansion would be possible even faster than expected. I want to have a hand in deciding what the economy of the country would look like. There is no time for me to expound in details and everything, but I do know that the greatness I can see is just the beginning because what is coming, no mind has fathomed it yet.
What motivated you to have a First Class in Agriculture?
First of all, my motivation was my family; I just wanted to make them proud. Then again, I love to be first class in everything I am doing; I always want to be a "wow" in my accomplishments. This was my mindset in getting a First Class. In the end though, I know I didn't do it on my own, it was God all through; though it wasn't easy.
What Advice do you have for the Federal Government?
My advice to the Federal government is that they should turn over the attention they are giving to the oil sector to the Agricultural sector. This is a song that has been sung to the point of being a clichéˊ. But since every government's agenda is to improve the economy of the nation among other things, they must then see the wisdom in this. They should form alliances with private universities and institutions that support Agriculture and promote such programs. They should increase the amount of grants and loans for Agricultural enterprises; because surely, it doesn't take any special intelligence to see that Agriculture is one thing that can never fail if you do it right.
What Advice do you have for the youth who do not like Agriculture at all
Not many people appreciate the hard labour that is associated with farming, and this may be the reason for their lack of interest in the field; but Agriculture is not all about hard labour. We are now in the era of mechanized farming, and if that won't do, how about hiring labour (and you have helped create employment). There are many aspects of Agriculture that have not yet been explored and if your mindset is changed such that you are now thinking that the survival of the nation depends on you, this could help. And if what bothers you is all about money, it would interest you to know that your products would always be in demand and you will have your money in return.
Thank you for your time!
You are welcome!
Today @ LMU
Omu-Aran, NGovercast clouds 23.41oC
See More >>
Subscribe to our Newsletter
Get the latest news and updates by signing up to our daily newsletter.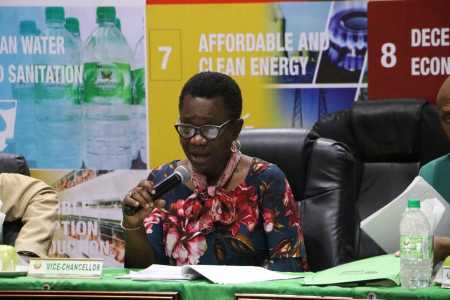 Story of the week
GREAT EXPECTATION AS LANDMARK SET TO FLAG OFF INTERNATIONAL VISITING VOLUNTEER SCHOLARS PROGRAMME