LMU NURSES CELEBRATES 2018 INTERNATIONAL NURSES WEEK
On Wednesday 16th May 2018, Landmark University Medical Center celebrated this year's International Nurses Week amidst pomp and pageantry. The day which has its theme as "Nurses, a Voice to Lead, Health is a Human Right", was also focused on driving excellence and professionalism among nurses in LMU Health Centre. The weeklong event usually holds between May 6th and 12th every year to promote nursing as a profession and a discipline.
Celebrating this year's edition, the Vice-Chancellor, Professor Adeniyi Olayanju who company of by the Registrar, Dr. Azubuike Ezenwoke and the Director Financial Services, Pastor Fredrick Aghahuwa, said the Management deemed it fit to honor the nurses with their presence on the occasion because of the role they play in keeping the University Community healthy. Professor Olayanju reiterated that for the University to achieve its agrarian mandate, a healthy environment must be ensured. He thereafter admonished the nurses to work in collaboration with other medical personnel in delivering standard health care services.
The acting Director Health Services, Dr. Joseph Olisa while giving his goodwill message felicitated with the nurses on the occasion as he eulogized them for standing for professionalism which has been passionately driven at the LMU Medical Centre. He added that quality human resources and competent personnel are part of the Centre's strength.
Also speaking, the Matron of the Centre, Mrs. Christy Ndako charged the nurses to intensely seek personal improvement by updating their knowledge. She added that a nurse must not rely on outdated knowledge and skills. Mrs. Ndako who noted that Nursing is a noble profession, also identified patience, passion and sacrifice as some of the core values of professional nurses.
The Guest Speaker, Nurse Jacob Aransiola, a former Director of Nursing Services, Kwara State Ministry of Health, in his Presentation, reeled out the ethical standard of Nursing according to the Nursing Council of Nigeria. He said the Council is working round the clock to ensure quackery in the profession is totally eradicated. Nurse Aransiola who rated the nurses in the LMU Medical Center as highly ethical urged them to further raise the standard.
He added that the Medical Centre which is one of the best health facilities around is ripe enough to run a college of Nursing and Midwifery to further utilize the state of the art health equipment available at the Center. He eulogized the Proprietor for meeting the Nursing Council's standard of one-Nurse-to-Four-Patient ratio; a service which he said is rare in other hospitals around.
The 2018 LMU Nurses Week featured an interactive session amidst other programmes.
Today @ LMU
Omu-Aran, NGclear sky 20.37oC
See More >>
Subscribe to our Newsletter
Get the latest news and updates by signing up to our daily newsletter.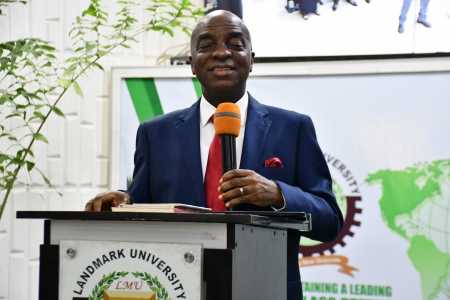 Story of the week
LANDMARK HOLDS 2022 STAFF EXECUTIVE ADVANCE