IDDO CARE SEEKS PARTNERSHIP WITH LANDMARK UNIVERSITY
IDDO CARE SEEKS PARTNERSHIP WITH LANDMARK UNIVERSITY
The Management of Iddo Care Limited, a technology company, has sought partnership with Landmark University on enhancing the living condition of both staff and students in the University campus through the provision of automated laundry services.
Receiving the Iddo Care team in the Chancellor's Boardroom, the Vice-Chancellor, Professor Adeniyi Olayanju lauded the company's initiative in bringing on board solution that will improve the human living condition and support academic excellence. He commended the team for considering Landmark University for such world-class services which he said is in line with the University motto of breaking new grounds.
The Founder/CEO, Mr. Seun Odukoya who came in company of the Head, Strategy & Innovation, Mrs Anoko Odukoya while presenting nitty-gritty of the laundry services to the members of the University management, revealed that the service is a solution to laundry challenges in Nigeria especially in the academic arena where time management is very germane to facilitating a more robust academic engagements. According to him, not only do students use about 25hrs of their time on laundry but also expend about 72, 000 naira on laundry services in a semester. Other laundry challenges he identified were theft, misplacement, and damage. However, he stated that the Iddo Care laundry management solutions would be relieving the University community especially the students of all laundry burdens at a very organized and affordable charge.
Mr Odukoya, therefore, commented on the reason for their choice of Landmark University. He said aside from their confidence in the safety of their state-of-the-art laundry facilities, the availability of basic utility such as water, electricity, and internet, and the uninterrupted academic activities in the University will facilitate a healthy relationship and good service delivery.
The members of the University team in attendance with the Vice-Chancellor were the Registrar, Dr Azubuike Ezenwoke; the DFS, Pastor Frederick Aghahuwa; the DPPD, Arch Opeyemi Sina-Olulana; the DCSIS, Engr Oladipo Olaleye; the DSA, Dr Ogadimma Arisukwu; the BMLMDV, Mr Olufemi Adetifa, and the HCPA, Mrs. Ngozi Osueke.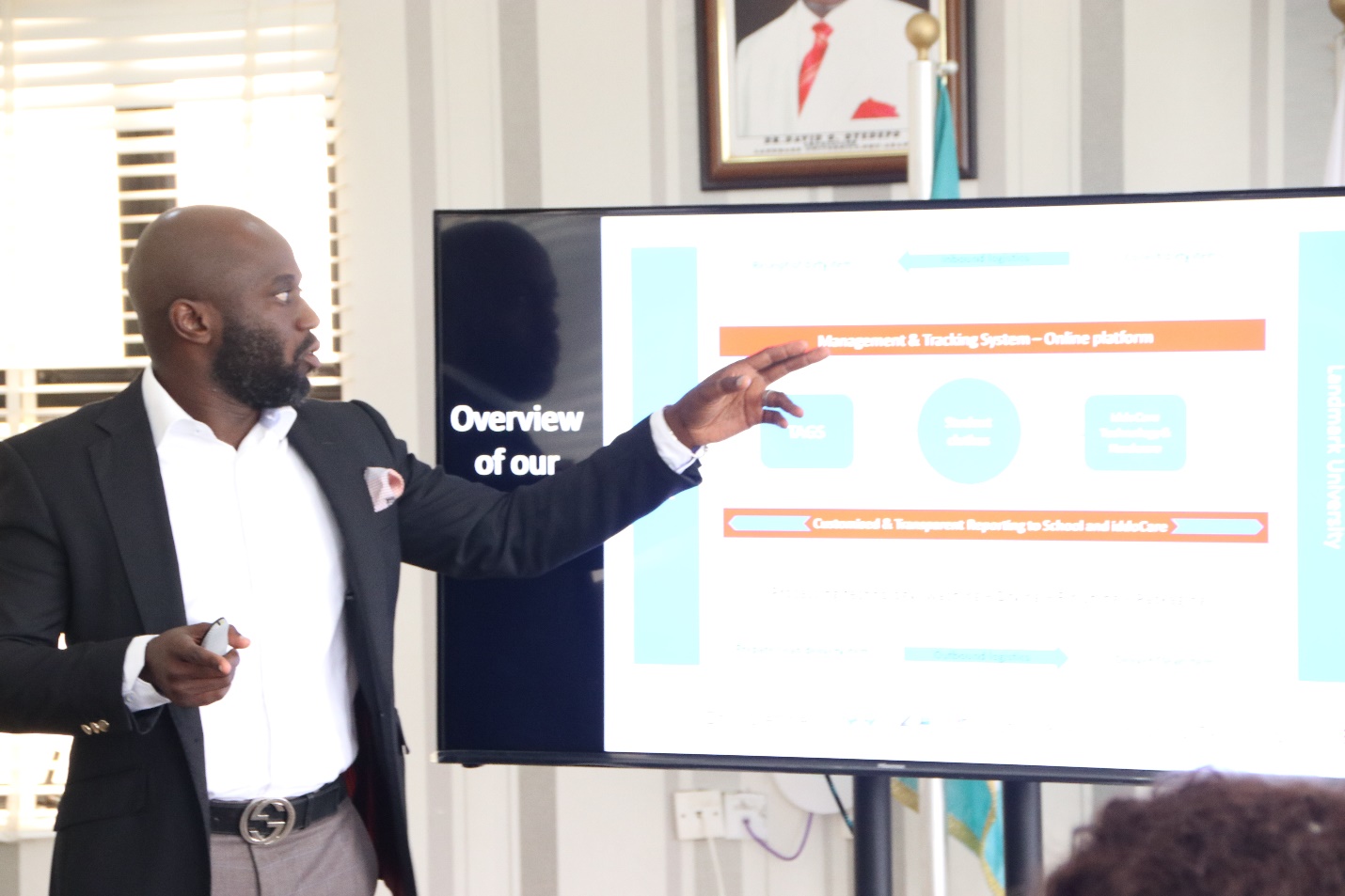 The Founder/CEO, Iddo Care Limited, Mr Seun Odukoya, making his presentation on the world-class laundry solutions
The Iddo Care team in a group photograph with Landmark University Management after the meeting
Today @ LMU
Omu-Aran, NGclear sky 21.32oC
See More >>
Subscribe to our Newsletter
Get the latest news and updates by signing up to our daily newsletter.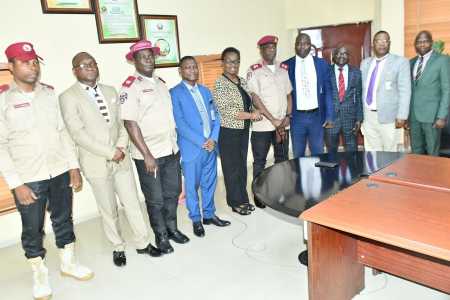 Story of the week
LANDMARK UNIVERSITY RECEIVES NEW FRSC KWARA SECTOR COMMANDER