ICRA NETHERLANDS PARTNERS LANDMARK UNIVERSITY ON AGRIBUSINESS
"LMU as the First Private University of Agriculture in Nigeria is Significant to Us" – ICRA Netherlands. These were the words of the Country Representative of International Centre for Development Oriented Research in Agriculture (ICRA) Netherlands, Dr. Gbenga Idowu on 20th April, 2018 as he led his team on a strategic meeting with the Management of Landmark University led by the Vice-Chancellor, Professor Adeniyi Olayanju which was geared towards fostering a long-lasting relationship between both organizations.
While welcoming the ICRA team, the Vice-Chancellor intimated them with the fact that Landmark University is a potential world class Institution established by the Living Faith Church Worldwide under the leadership of the Presiding Bishop, Dr. David Oyedepo and granted license by the Federal Government of Nigeria on 7th March, 2011 and commenced operations on 21st March, 2011 with a unique visionary mandate of spearheading an agrarian revolution on the African continent. "We are a frontline agriculture-based private University committed to raising generation of solution providers, great reformers, global citizens and exemplary leaders."
He further noted that the University is driven by urgency in actualizing her visionary mandate, with great emphasis on community impact and capacity expansion to proffer solution to indigenous challenges, that is why the University is considering possible collaboration, noting what ICR stands for, as well as its growing influence in Agribusiness, including training and coaching supply chain actors at the grassroots to enable them function better in their value chain as agribusiness partners. "We are blessed with dedicated Faculty, Staff and Students are also endowed with awesome environment and infrastructure for the development of potentials, including scholarship, agripreneurship, creativity and community impact. I do hope that frontiers of accomplishments along agricultural innovativeness can be expanded better on the platform of collaboration between ICRA and LMU. I deeply appreciate Dr. Sobukola Olajide, FUNNAB, for facilitating the connection between ICRA and LMU, as well as pressing for this remarkable meeting."
In his response, the Country Representative ICRA, Dr. Gbenga Idowu registered his satisfaction on the acceptability of LMU to collaborate with ICRA. He said ICRA is an independent international non-profit organization that provides capacity building for researchers to expand the frontiers of research. "We always ask the question, how can business contribute to community development? And how can we attract funding to make life better for the people? Because we believe Agribusiness can help you profit and solve the problems of the poor community at the same time. ICRA was formed to strengthen the capacity of teachers who are committed to research. It was observed that researchers wants their research to be down to earth but do not have the mindset and capacity to make it happen. "
He said ICRA wants to domesticate their programme in Nigeria and is delighted that Landmark University, being the First Private University of Agriculture in Nigeria is commendable and gives the team hope that collaboration between both organizations would be fruitful.
Also present at the meeting were, the Business Development Manager, ICRA, Mr. Geiljan Beigen and Dr. Sobukola Olajide a Faculty from FUNAAB who is a beneficiary of ICRA training overseas and the link between LMU and ICRA. Mr. Geiljan Beigen further corroborated that ICRA is not a profit making organization and looks forward to working with LMU. "We thank you for a warm reception and the core-values, mission, vision and the collective resolve of the University to produce pathfinders upon graduation is very resonating. We believe that innovation in smallholder farming is the key to inclusive development and improving global food security. That is why we focus on strengthening the abilities of people to collaborate and learn from each other within local partnerships. Our training courses and projects are designed to build skills and change outlooks within education, research and advisory services, so that these can better support local agribusinesses."
According to information available, ICRA was founded in 1981 to help end poverty and hunger and to promote sustainable resource use, through inclusive innovation partnerships and by the strengthening individual, organizational and institutional capacities required to make these partnerships work. ICRA has offices in Wageningen, the Netherlands and Montpellier, France, and staff based across Europe and Africa. The origination is also a member of the Agrinatura, AgriProFocus and PIE (Platform of International Education) networks
Today @ LMU
Omu-Aran, NGclear sky 18.84oC
See More >>
Subscribe to our Newsletter
Get the latest news and updates by signing up to our daily newsletter.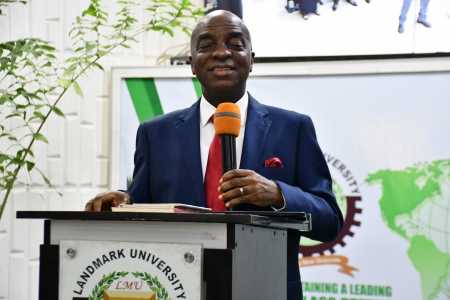 Story of the week
LANDMARK HOLDS 2022 STAFF EXECUTIVE ADVANCE