LANDMARK UNDERGRADUATE BECAME ICAN CERTIFIED AT AGE 19
Landmark University continues to pride in her legacies of excellence laid through her commitment to creating unprecedented opportunities for students to launch their careers, thereby equipping them to become global pathfinders. One of such opportunities is the Landmark Professional Accountancy Centre (L-PAC) of the College of Business and Social Sciences that nurtured Queen Oluwatobi Grace Adeoye to professional maturity in the Institutes of Chartered Accountants of Nigeria (ICAN) qualifying examinations. Queen Adeoye who was admitted to the University's Accounting and Finance Department in 2016 started her professional journey in her 2nd year as one of the pioneer students of the Centre and by dint of hard work, consistency and diligence passed the each of the five stages of ICAN qualifying examination at first attempt within two and a half years. This feat was not unexpected by the University Centre considering the time, expertise and academic investments on the students towards giving value to the financial commitments of their parents.
By this feat, Queen Adeoye has joined the hall of fame of very few individuals who became chartered Accountants as undergraduate and in their teen age. At present, Queen Adeoye is in 400 level with an impressive First-class CGPA and expected to graduate in July 2020. In retrospect, Mr. Tobi Oladiran as an undergraduate in the Department of Accounting and Finance, Landmark University wasn't only a Chartered Accountant but also one of the top 3 Affiliates of ACCA in Nigeria and the overall best graduating student of the Marvel set of pathfinders.
In Landmark University, students are rest assured of avant-garde education system with accompanying cutting-edge advantages not only to rank among the best but also to break limits globally. Landmark University community, therefore, congratulates our very outstanding Queen Oluwatobi Grace Adeoye on her breaking-limit milestone.
Queen Oluwatobi Grace Adeoye, final-year student of Accounting and Finance Department celebrating her successful completion of the five stages of ICAN

Queen Oluwatobi Grace Adeoye
Today @ LMU
Omu-Aran, NGclear sky 19.71oC
See More >>
Subscribe to our Newsletter
Get the latest news and updates by signing up to our daily newsletter.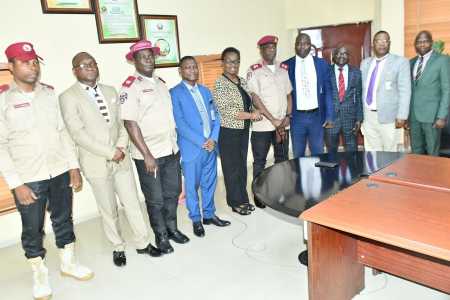 Story of the week
LANDMARK UNIVERSITY RECEIVES NEW FRSC KWARA SECTOR COMMANDER