HEIRS AND HERALDS INTERNATIONAL IMPRESSED WITH LMU AGRARIAN DRIVE
Heirs and Heralds International on 29th May, 2018 led a group of young agripreneurs on tour to the University's Commercial and Teaching & Research farms to encourage youths and young professionals to invest in agriculture by taking advantage of the various opportunities in agriculture value chain.
The Vice-Chancellor, Professor Adeniyi Olayanju who was on inspection to the poultry unit at the time of the tour showed his excitement about the young people he saw looking to go or invest into agriculture while reiterating the need for youths to embrace agriculture as a profession and business.
Managing Partner, Heirs and Heralds International, Mr. Olaoluwa Bamigboye noted that his organization is grateful for the opportunity given by the Management of Landmark University to visit both the Teaching & Research farm of the institution and the commercial farm. He said the visit was an eye opener for most of the tourists, particularly with respect to modern and scientific ways of practicing agriculture. "We hope to use the excerpts, videos and pictures from the tour to attract more people especially young professionals to invest in agriculture and contribute to food production in our dear country Nigeria. Nigeria is on a path to becoming a self-sufficient nation with respect to food production in the world and we are excited to be a part of the revolutionary mandate of the founders of Landmark University. We trust that this relationship will open more doors of mutually beneficial partnership in the near future".
At the end of the day the purpose of the tour to educate and enlighten youths and young professionals to learn about the advanced methods of farming being practiced in the country and to encourage them to venture into or start-ups of their own. The tour had over 17 participants from Lagos, Ilorin, Jos and Kwara state environ. The tour participants were students from University of Ilorin, entrepreneurs involved in fish farming, members of a co-operative society and young minds looking to invest in agriculture.
It is worthy of note that Heirs and Heralds International is a diversified food service company (poultry & livestock) registered in 2012 by the Corporate Affairs Commission with specific interests in food service and agro-logistics. Domiciled in Lagos, Nigeria, our inspiring vision is to see food on every man's table and encourage a healthy agrarian society through teaching, training, research and implementation in the field of agriculture. The Organization also offers consultancy and advisory services for persons interested or already into agriculture. Other members of the team are Mr. Temitope Abisoye and Mr. Eminue Aaron; a member of the 2017 Noble Class graduating set of the University who currently works with Heirs and Heralds as a research and development officer at his office at the Senate Building of the University.
Today @ LMU
Omu-Aran, NGlight rain 30.15oC
See More >>
Subscribe to our Newsletter
Get the latest news and updates by signing up to our daily newsletter.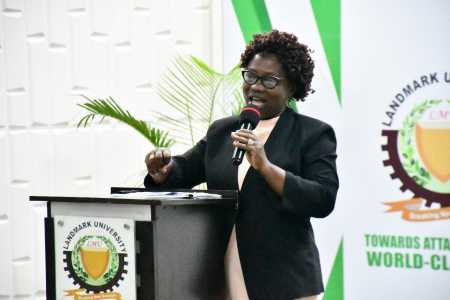 Story of the week
ACTING VC UNVEILS URGENT ACTION PLANS TOWARDS VISION REALIZATION