LANDMARK RECEIVES DUTCH CONTIGENT ON DEVELOPMENT OF GREEN HOUSES
Committed and determined to attain a technologically driven agrarian vision for a World-Class status, on Wednesday 23rd January 2019, the Management of Landmark led by the Vice-Chancellor Professor Adeniyi Olayanju received a team of Agriculturists and Engineers from the Netherlands.
Welcoming the Guests, the Vice-Chancellor stated that Mr. Nico de Groot of the Dutch Horticultural Trade Board and Mr. Robert van Don the international Business Development Manager's visit to the Institution is borne out of her unique and remarkable quest for driving agricultural revolution which is capable of redeeming the image of the black race in the global context. "We are committed to improving the plight of farmers with respect to meeting the food and economic needs of African continent. Our academic and research efforts are increasingly channeled towards addressing food insecurity, youth unemployment, economic downturn and dignity deficiency besetting Africa."
He noted that the University's drive in the pursuit of her visionary goal led to the effort towards collaborating with relevant reputable organizations and deploy technology solutions to agricultural productivity challenges. This drive would be an opportunity for Mr. Nico de Groot and Mr. Robert van Donk to introduce the organization's Greenhouse Technology Concept to Management which is an addition to already existing ones at the Teaching and Research Farms. "I recognize one of our partners in progress, Pastor Adebowale Onafowora, MD/CEO Bic Farms Concepts for his interventional role in our drive for improved greenhouse farming in particular and farm operations in general, noting your impact in facilitating this meeting. With the caliber of wonderful guests at this table, I am confident that the envisioned height for the University in this regard is not far from being attained."
Professor Olayanju enthused that his dream for the University is to promote mechanized agriculture and take the University to the higher level of relevance in providing solution to the societal challenges, chief of which is food. He appealed that the idea of greenhouse farming and hydroponic technology are novel and dear to the heart of the University, as she wants to pride herself as the first institution to offer Hydroponics Technology as a certificate course and later degree in Nigeria.
While addressing members of the University agriculture experts, Management and Faculty, Mr. Nico de Groot stated that being a world Class University, Landmark is into commercial farming, hence the interest of the group to collaborate in driving technology based agriculture. He added that mechanized farming can be achieved through the exploration of latest technology. "Aside the agrarian aspect, students should go beyond theory, they must know what to do when they encounter challenges and this can be achieved through translation of knowledge to implementation. Let us see how we can link your University to our University to work out on exchange of knowledge and research."
His partner, Mr. Robert van Donk during his presentation stated the advantages of diversification from open field farm to greenhouse as, prevention of diseases, ease of expansion, economical, and simplicity in implementation through technology amongst others.
The team who later toured the Landmark Teaching and Research farm and the commercial farm facilities said what they have seen so far has encouraged them to be committed to fostering a result oriented partnership which impact would be felt in the Country in no distant time.
Today @ LMU
Omu-Aran, NGclear sky 19.74oC
See More >>
Subscribe to our Newsletter
Get the latest news and updates by signing up to our daily newsletter.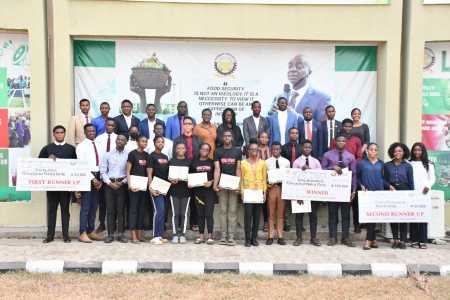 Story of the week
LANDMARK HOLDS INNOVATIVE CHALLENGE TOWARDS