LMU RECIEVES GM KWARA TV TOWARDS EXPLORING MEDIA ROLE IN AGRICULTURAL REVOLUTION
"You don't light a candle and put it under the table because the purpose of that light is to give vision. It will be unfair if what you do here is just kept within your premises. I believe there are a lot of benefits for kwara state in this place."
These were the words of the General Manager (GM), Kwara State Television, Alhaji Abdulfatai Adebowale, during his courtesy visit to the Vice-Chancellor, Professor Adeniyi Olayanju in the University on Thursday, 20th September, 2018. Speaking to the Vice-Chancellor and other principal management members present, the GM reiterated the overarching role of the media in the propagation of the agrarian activities, innovations and breakthroughs of the University. He said the University is well endowed for it not to be given proper and adequate coverage for the benefit of the people of Kwara in particular and the nation in general. He mentioned that the station has gone digital, with its coverage getting wider and better.
While expressing his passion towards the University's agrarian vision which he said is paramount to the wellbeing of the nation, he reassured the Vice-Chancellor of the station's commitment to the existing relationship between his station and the University. He advised that the University should take advantage of it to advance agricultural education, innovations and information emanating from the University thereby actualizing her vision. "There is this passion for Landmark University I have because I see agriculture as man's purpose in life and first assignment … I believe that as a country, until we fall back to that beginning, we cannot really stand up and raise our head high in the comity of nations. Nigeria can never attain proper advancement or the title of advanced country until we go back to our main power stay, agriculture. I have taken a tour of your farms and facilities here, and I believe the revolution going on here can turn around the entire nation," he concluded.
In his response, the Vice-Chancellor appreciated the GM for his interest in the vision of the University and the wellbeing of the nation. Corroborating his views, the Vice-Chancellor recognized the intermediate role of the media in actualizing the vision of the University by disseminating the information and projecting the groundbreaking achievements to a larger audience within the global purview of the challenge of food insecurity. He said that the MD's visit was apt, noting that the University at this time cannot afford to remain unpopular in the global agricultural education space with the avant-garde discoveries and people-cum-societal-oriented research breakthroughs the University has made over the years. He noted that the University remains committed to its vision and the University Management will joyfully explore the relationship with the Kwara Television to advance agriculture in Nigeria.
The Vice-Chancellor, therefore, led the GM and his entourage (Head, Special Events and Entertainment, Hajia Fatimah Salman; Head, Current Affairs, Babatunde Jimba; Presenter, Pastor Samson Abodunrin; and Cameraman, Abdulwahab Olatunji) to the University's facilities used in driving her agrarian revolution.
Today @ LMU
Omu-Aran, NGlight rain 27.17oC
See More >>
Subscribe to our Newsletter
Get the latest news and updates by signing up to our daily newsletter.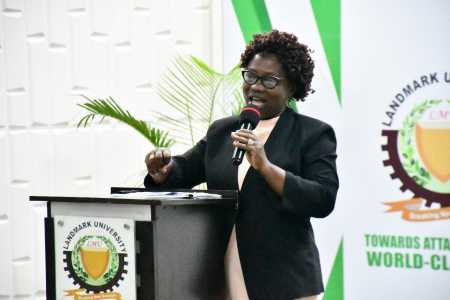 Story of the week
ACTING VC UNVEILS URGENT ACTION PLANS TOWARDS VISION REALIZATION