NEWLY APPOINTED OMUARAN FRSC UNIT COMMANDER COMMENDED LANDMARK UNIVERSITY
On Tuesday 7th September 2021, Management of Landmark University led by the Vice-Chancellor, Professor Adeniyi Olayanju received the newly appointed Omu-Aran Federal Road Safety Corps (FRSC) Unit Commander, Asst. Corps Commander S.M.A. Orokpo alongside his entourage who were on a courtesy and familiarization visit to the University.
While speaking on the visit, the newly appointed Unit Commander expressed appreciation to the management of the University for the very clear footprints impressed in the host community and its environs. He noted that Landmark University was the first organization mentioned to him by his predecessor and colleagues in the command to have been supportive in their operations. He, therefore, noted that he came purposely to appreciate the University and requested the management of the University to give his administration much more support in view of a mutually beneficial relationship between the organizations. The Unit commander used the opportunity to inform the University community to leverage the enhanced capacity of the Command to process and issue driver's licence without delay, making Omu-Aran the 2nd centre in the whole of Kwara State.
Responding to the Commander, the Vice-Chancellor, Professor Olayanju reiterated the commitment of the University to its community impact mandate as enshrined in the strategic goal of the University and the Sustainable Development Goals (SDGs) of the United Nations. He said all that the University has done are intentional and in fulfilment of the mandate. In the same vein, the Vice-Chancellor noted a number of the faculty and staff of the academic community are members of the Special Marshal which has culminated in the expansion of the community service of Landmark University to society, saying that safety of lives and properties is a collective responsibility of all. While, therefore, guaranteeing the University's unflinching support, the Vice-Chancellor commended the Command for upholding the tenets of their mandate in the community thereby providing a platform for a rhythmic relationship.
Earlier, the Registrar, Miss Fola Oyinloye had noted that the Command's show of gratitude would be acknowledged as an application for more cooperation and interaction between the University and the Command.
The meeting was concluded in an interaction that focused on ways to enhance the existing relationship between the Command and the academic community.
Alongside the Unit Commander were the Head of Special Duties and External Relations, Deputy Road Commander Aliyu Akoshi; Head of Intelligence, Asst. Road Commander John Aderibido; Protocol Officer, Road Marshal Asst. H. Jimoh; and the Orderly to the Unit Commander, Road Marshal Asst. Yaya Onoja.
On the Landmark University team were the Director of Finance, Mr Christopher Fatiregun, the Director, LUCRID, Professor B. Adebesin and the Head, Corporate and Public Affairs, Mr Olugbenga Olajide.
Today @ LMU
Omu-Aran, NGclear sky 19.74oC
See More >>
Subscribe to our Newsletter
Get the latest news and updates by signing up to our daily newsletter.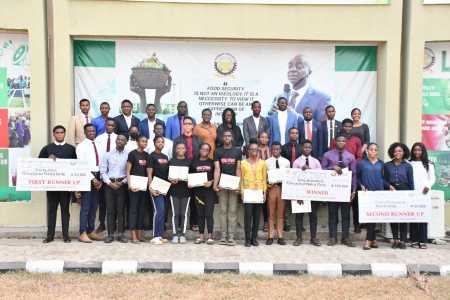 Story of the week
LANDMARK HOLDS INNOVATIVE CHALLENGE TOWARDS