LANDMARK RECEIVES FRESH STUDENTS
On Monday 22nd November, 2021 Landmark University opened its gates to fresh students for the 2021/2022 academic year. The first batch of fresh students enrolled into the University's four colleges for the 2021/2022 academic session arrived at the University gate strictly according to the resuming procedure established by the University management led by the acting Vice-Chancellor, Professor Charity Aremu. In the notice of resumption, the Registrar, Miss Fola Oyinloye had noted that classes would commence for the freshmen in earnest. The positive turnout of these talented young men and women at resumption, therefore, revealed their enthusiasm to be launched into the full range of campus activities at Landmark University. It is noteworthy that the University has been forward-looking not only in its effort to consciously impart in the students God-fearing culture and sound academic principles but also uphold its in-loco parentis responsibility to them as its world-class status quest is tenaciously driven.
Speaking on the resumption exercise, the Head of Admission, Mrs Olubunmi Hassan noted that the registration process has been smooth and stress free. According to her, the number of the new students on the first day of resumption was impressive as she eulogized their level of comportment. While assuring that the reception exercise would continue at the University gate till the end of the week, she disclosed that the admission portal is still open for admission seekers with a minimum UTME score of 180 to take advantage of the opportunities that abound in the University. She also noted that the freshmen are only required to pay a minimum of 40 percent of their school fees at resumption in line with the University 4 instalments payment structure.
Other members of staff representing their various directorates and units also lauded the management for coming up with such a seamless registration process which has drastically reduced the stress that usually accompany resumption protocols in time past.
For some of the newly admitted students, coming into Landmark University is a dream come true, one of them, Ifeoluwa Awolola of the Department of Mechatronics expressed joy and appreciation to be a student as he promised to be of good conduct while on campus. According to him, his elder brother who is also a student of Landmark has been an inspiration not only to him but the entire family and this he said encouraged his parents to enroll him in the school.
The University welcomes and wishes the freshmen a most fulfilling Landmark experience.
Today @ LMU
Omu-Aran, NGclear sky 18.98oC
See More >>
Subscribe to our Newsletter
Get the latest news and updates by signing up to our daily newsletter.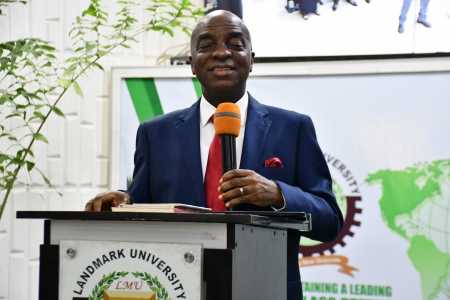 Story of the week
LANDMARK HOLDS 2022 STAFF EXECUTIVE ADVANCE