LANDMARK BUILDS CAPACITY ON FORMIDABLE HYDROPONICS TECHNOLOGY
Landmark's quest for the restoration of the dignity of the black race was again brought to the fore as the University organised a three-day empowerment training on hydroponics technology towards building strong human capital base and efficient national innovation system as it looks forward to a formidable take-off of a centre for hydroponic and greenhouse technology, the first of its kind in Nigeria.
Speaking at the opening ceremony, on the 26th of February 2019, the Vice-Chancellor, Professor Adeniyi Olayanju, who has been at the vanguard of hydroponics farming in the University to emphasize his drive for mechanized agriculture, noted that the University Management is unrelenting in bringing to bear innovative ideas and modern technological procedures aimed at enhancing agricultural productivity. Professor Olayanju further stated that the University had since embraced hydroponic farming on account of its competitive advantages and having ascertained its viability, procured more screen houses and test run different models of the thriving technology in soilless farming. He, therefore, emphasized that the training programme is strategic to asserting the operational efficiency and world-class trend compliance of the University with a visionary mandate of driving a cutting-edge agricultural revolution.
"It is a well-known fact that University education is central to building a strong human capital base. We are indeed poised to building a strong human capital base and an efficient national innovation system that will improve the quality of life of people. As a University with a passion in research-driven activities, we play a critical role in training the professionals, high-level specialists, scientists and researchers needed by the economy and in generating new knowledge in support of the national pursuit for Sustainable Development Goals (SDGs).
"No doubt greenhouse farming and hydroponic technology are novel ideas dear to our heart at Landmark. We earnestly desire to be the first institution that will offer Hydroponics Technology as a certificate course and later a degree in Nigeria," he added.
Hence, while expressing confidence that the training will take hydroponic technology to the next level of operation in the University, the Vice-Chancellor said the envisioned height for the University in this regard is not far from being attained.
"I look forward to having more greenhouses massive in size and many acres of land earmarked for hydroponics, Aquaponics and general greenhouse technology development with commensurate evidential results."
Having intentionally selected the trainees to foster the University's role in creating and disseminating knowledge, educating a highly skilled workforce for technological and intellectual leadership, and serving the needs of society, the three days training, which was facilitated by BIC FARMS Concepts, covered the science, technology and commercialisation of hydroponics with over 30 participants from the University's Teaching and Research Farms, Colleges of the University
Today @ LMU
Omu-Aran, NGclear sky 18.98oC
See More >>
Subscribe to our Newsletter
Get the latest news and updates by signing up to our daily newsletter.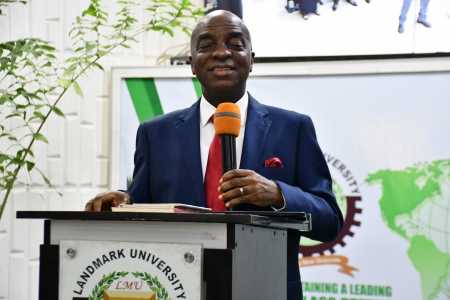 Story of the week
LANDMARK HOLDS 2022 STAFF EXECUTIVE ADVANCE