WORLD FOOD SAFETY DAY 2021
On Monday 7th June 2021 the SDG 12 Research Group (Responsible Consumption and Production) under the auspices of Landmark University Center for Research Innovative and Development (LUCRID) organized a one-day webinar tagged, "Safe Food Now for a Healthy Tomorrow," to commemorate the World Food Safety Day 2021.
The Vice-Chancellor, Professor Adeniyi Olayanju, while delivering his welcome address, made it known that food safety has become a growing concern globally vis-à-vis the method of handling, preparation, and storage of food in ways that prevent food-borne illness. The Vice-Chancellor stated that production and consumption of safe food would have both immediate and long-term benefits to the people, the economy, and the planet which, therefore, must be prioritized for the realization of responsible consumption and production (SDG 12).
In furtherance of this, Professor Olayanju added that food safety is everyone's business, saying that "food safety is a shared responsibility between governments, producers and consumers. Everyone has a role to play from farm to table to ensure the food we consume is safe and healthy. Through the World Food Safety Day, the World Health Organization (WHO) works to mainstream food safety in the public agenda and reduce the burden of foodborne diseases globally". He, therefore, felicitated with the members of the SDG 12 Research Cluster for organizing such an insightful webinar while urging other groups within the University to emulate the initiative.
In his presentation titled, "Food Choices: You Are What You Eat", Professor O. O. Osemwegie, former Dean, College of Pure and Applied Science (CPAS), Landmark University, revealed that the concept of food choice is changing beyond hunger or nutrition to more biofunctional benefits associated with safety and wellbeing. Professor Osemwegie noted that food choices which are informed by Biological, Economic, Physical, Social, Health, Psychological and Environmental factors could strongly determine the future of the consumers, noting that "what you eat shapes your future".
Also speaking, Dr Taiwo Abiola of the Department of Chemical Engineering whose presentation was captioned "Plastic Management for a Sustainable Future" called on policymakers to assist in ensuring food safety by changing the existing production and consumption of plastic, formulation of policies that would give paradigm shift away from downstream solutions such as recycling and upstream measures such as reduction, prevention and innovative technologies.
The Coordinator of SDG 12 Research Group, Dr Abiola Olaniran noted that all participants and researchers should play their roles in curbing food toxicity by managing the natural resources more efficiently and dispose of toxic waste better. She further urged them to get businesses and consumers to reduce and recycle wastes as one of the ways to foster a healthy environment. Dr Olaniran, thereafter, expressed gratitude to the management of the institution for supporting the maiden webinar by the SDG 12 Research Group under LUCRID.
Today @ LMU
Omu-Aran, NGclear sky 20.27oC
See More >>
Subscribe to our Newsletter
Get the latest news and updates by signing up to our daily newsletter.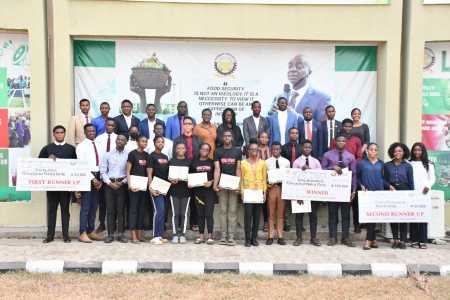 Story of the week
LANDMARK HOLDS INNOVATIVE CHALLENGE TOWARDS