INNOVATIVE FOOD PRODUCTION SYSTEM NECESSARY FOR MEANINGFUL GLOBAL FOOD SECURITY
Professor Michael Ngadi, a James McGill Professor of the Department of Bioresource Engineering and Director, Integrated Food and Bioprocess (IFB) program McGill University, Quebec, Canada, said that with an innovative food production system in place, Nigeria will rise above the tide of food insecurity. This was his charge to the assembly of Agricultural Engineers, technicians and students who converged on Landmark University for the 20th International Conference and 40th Annual General Meeting of the Nigerian Institution of Agricultural Engineers on Tuesday, 17th September 2019.
Speaking on: "Innovations and Technologies for Sustainable Agricultural Mechanisation and Livestock Transformation for Economic Growth," the professor of Food and Bioprocess Engineering said Nigeria's food processing sector still remained underdevelopment despite the large potential market, noting that most government agriculture policies had failed to address the food insufficiency debacle. According to him, the country still depends largely on imports to meet its demand for quality food in spite of abundant available natural resources.
"Despite high-cost production and poor infrastructure, there is increasing need for local food production processors. This is to differentiate their products in order to meet the growing tastes of the young and high-income consumers.
"We consume more processed food yet process very little; our food production system is still rudimentary. This present way of producing food is not sustainable and has very little capacity to move Africa out of poverty.
"There is an urgent need for change. A paradigm shift in our food production system is necessary to achieve meaningful success in global food insecurity," he said.
He emphasized that the innovative food production system should target the various challenges of food production and availability such as urbanisation, natural resources degradation, climate change and food waste among others. He revealed that urbanisation brings about increase in food consumption while 25 percent of all farmland is already rated highly degraded. He revealed further that rise in the frequency of droughts and floods reduces crop yields and between 33 – 50 percent of all food produced are never eaten.
In view of these challenges, he noted that food production systems that are required must be "private-sector driven, environmentally compatible and climate smart, affordable, convenient, friendly to smallholder farmers, nutrition sensitive and inclusive of the interests of women and youth."
Professor Ngadi, therefore, recommended high capacity building of stakeholders as very crucial to achieve the desired food sufficiency and socio-economic transformation.
Today @ LMU
Omu-Aran, NGlight rain 29.25oC
See More >>
Subscribe to our Newsletter
Get the latest news and updates by signing up to our daily newsletter.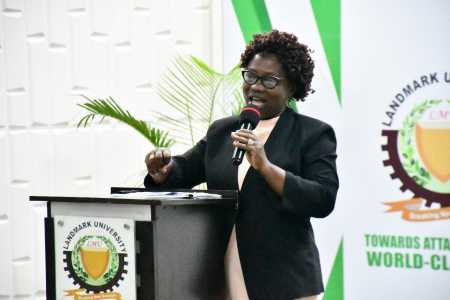 Story of the week
ACTING VC UNVEILS URGENT ACTION PLANS TOWARDS VISION REALIZATION