FOOD, BEVERAGES AND CONFECTIONARIES' MONITORING COMMITTEE INAUGURATED
On Tuesday, 29th March, 2016, the Food, Beverages and Confectionaries' Monitoring Committee was inaugurated as part of the Management's commitment to driving quality service in the LMU Cafeteria and other Food, Beverages and Confectionaries outlets in the University.
The Committee, Chaired by the Dean, School of Postgraduate Studies, Professor Charity Aremu, is expected to ascertain that good quality food, prepared under a safe and hygienic environment is the practice in the University. The Committee will ensure that a uniform selling price is driven at all sales outlet, as well as following up to ascertain that students and other customers get value for everything they buy in the outlets.
Speaking at the inauguration, the Vice-Chancellor, Professor Aize Obayan, implored all members of the Committee to do the job as unto the Lord, stating that they are expected to perform excellently in their monitoring responsibilities such that the University will feel the impact of the Committee in no time. She also stressed the need for team work, professionalism and commitment in carrying out their assignment, noting the importance of the driving synergy between the Committee and the Landmark University Development Ventures in achieving the desired result. The thirteen-man Committee is expected to operate within its terms of reference and generate the report of their activities, findings and recommendations, on a weekly basis.
Today @ LMU
Omu-Aran, NGclear sky 20.53oC
See More >>
Subscribe to our Newsletter
Get the latest news and updates by signing up to our daily newsletter.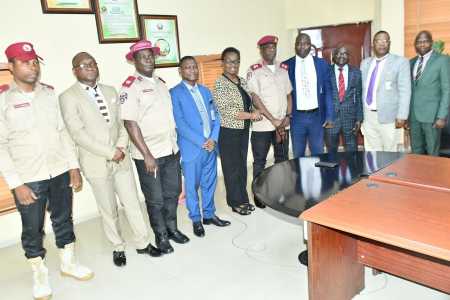 Story of the week
LANDMARK UNIVERSITY RECEIVES NEW FRSC KWARA SECTOR COMMANDER