FIRST LADY SEEKS LANDMARK UNIVERSTIY COLLABORATION ON CANCER ADVOCACY
As part of her initiative to enlighten the public most especially the residents of Kwara State on the menace of cancer, the Wife of the Executive Governor of Kwara State, Her Excellency, Deaconess Omolewa Ahmed led members of her LEAH Foundation to Landmark University on 21st February, 2018 to educate the University community on the dangers of cancer to humanity.
Speaking at the courtesy call to the members of the University Management, Her Excellency, Deaconess Ahmed stated that LEAH Foundation team were delighted to be at the University in continuation of its sensitization exercise on Breast, Cervical and Prostate cancers as part of the activities to commemorate World Cancer Day 2018.
"World Cancer Day takes place every year on 4th of February and is the single biggest initiative under which the world unite to raise the profile of cancer in a positive and inspiring way. This day was set aside by the Union for International Cancer Control (UICC) of which LEAH Foundation is a member. This is the last year of the 'We can. I can.' Campaign tagline of the World Cancer Day. The tagline seeks to explore how everyone, as a collective or as individuals can do their part to reduce the global burden of cancer."
She further said that her organization has been at the forefront of the campaign of awareness on the scourge of cancer which is set to reach out to all the tertiary institutions in Kwara State, as cancer is considered as no respecter of age and young adults need to be consciously aware and be well informed early enough.
"The significance of this sensitization visit is that it affords us all a chance to reflect on what we can do or should do to take action. To this extent, as a critical stakeholder, we are advocating for action to be taken by the school management to help nip these deadly diseases in the bud," she added.
The Vice-Chancellor, Professor Adeniyi Olayanju welcomed Her Excellency and members of LEAH Foundation on behalf of the visioner and Chancellor of Landmark University, Dr. David Oyedepo; Members Board of Regents, Management, Staff and Students of Landmark University.
Professor Olayanju applauded the initiative of the First Lady when he said that the impact of Her people-oriented programmes in LEAH Foundation have left many lives transformed, strengthened communal lines and provided a platform for making quality contribution to trending conversations in many health aspects. "This unwavering commitment to value-addition to people is noble and most commendable. The burden of cancer on global health remains a scourge to society. It is still the second most common cause of death following cardiovascular diseases. While I may not speak to this as an expert, it is common knowledge that certain lifestyle choices, occupational environments and the fast aging population in Nigeria increase susceptibility to cancer," he explained.
He further noted that the University's advocacy drive for wholesome living endears all to best practices that maintain good health posture. As the Institution is a Visionary Agrarian University with a mandate to harness the hidden treasures in the mother-earth, restore the dignity of the black race and feed the African continent.
"This affords us the rare opportunity to eat what we produce; natural food products and varieties devoid of preservatives and additives. Occupational exposures have long been linked to the risk of cancer. Human occupational carcinogens ranging from ionizing radiation, benzene and wood dust are common findings in a community like ours. It is, therefore, our expectation that your presentation today will further situate present cancer realities and open new vistas of opportunities for possible collaboration," he added.
He further highlighted the University's corporate culture to mitigate potential sources that predispose to cancer the best way possible when he said: "For instance, the radiological facilities (CT- Scan and X-Ray machines) at the Landmark University Medical Centre have full lead coverings to reduce exposure to ionizing radiations to our esteemed health workforce. Artisans and field workers wear Personal Protective Equipment (PPE) as routine operational expectation. Our partnership drive with leading Vaccine experts has sustained a Cervical Cancer vaccination programme for ladies of reproductive age group. Also, the Laboratory at the Medical Centre can assay for tumour markers such as Prostatic Specific Antigen (PSA) for prostate Cancer. However, both initiatives are not without a cost implication to the recipient. This cost burden is usually a militating factor against voluntary cancer screening procedures".
The Vice-Chancellor, Professor Adeniyi Olayanju giving his remarks while welcoming Her Excellency

Her Excellency, Deaconess Omolewa Ahmed addressing Members of Management during her courtesy call on the Vice-Chancellor

A cross-section of LEAH Foundation Members

The Vice-Chancellor, Professor Adeniyi Olayanju presenting Landmark University Farm produce to Her Excellency.

Her Excellency, Deaconess Omolewa Ahmed presenting gift to the Vice-Chancellor on behalf of LEAH Foundation

Members of Management and LEAH Foundation in a Group Photographs

A cross-section of Members of University Management at the meeting
Today @ LMU
Omu-Aran, NGovercast clouds 21.75oC
See More >>
Subscribe to our Newsletter
Get the latest news and updates by signing up to our daily newsletter.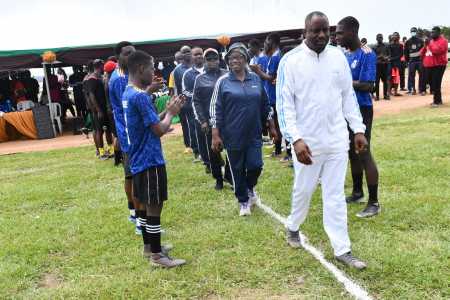 Story of the week
2022 CHANCELLORS CUP KICKS OFF