FIRE SERVICE VISITS LMU
On Tuesday 24th July, 2018, the officers of the Kwara State Fire Service, Omu-Aran Outstation led by their District Fire Officer (DFO), Saheed Omotosho, visited the Management of the University to explore collaborative opportunities towards continuous safety of lives and properties in the Omu-Aran community and its environs.
The DFO noted that the Fire Service rather than fighting fire prefers to prevent it. He said that many atimes they are only sympathizers in the face of fire wreck due to inadequacies either on their part or the citizens. He therefore underscored the need for an integrated effort to enhance the operation of the fire station, saying that the collaborative efforts of the University being a major stakeholder are crucial in the prevention of fire outbreaks in the community and its environs. He acknowledged the commitment and contributions of the University towards ensuring a safe community, especially in the area of campaigns against bush burning. He expressed confidence in the continuous support of the University to further engender effective operation in their service to the residents of Isin, Oke-Ero, Osi, Irepodun, and part of Ifelodun local government areas in Kwara South Senatorial District of the state, according to the state government. "I cannot but appreciate the Management of Landmark University because you have done a lot for Kwara State Fire Service in general. We appreciate your quick response whenever we call upon you. To further strengthen our collaboration, the University should look in the direction of introducing Fire Services Engineering into her programmes in her drive to become a world-class university," he concluded.
While welcoming the firemen, the Vice-Chancellor, Professor Adeniyi Olayanju commended the government initiative which he described as being people-oriented. He stated that the wreck of fire outbreak and its devastating effect cannot be overemphasized, noting that the establishment of the Omu-Aran Fire service Outstation had salvaged the environment from fire incidences and changed the narratives over the years. He therefore stressed the need for sustainable safety precautions as facilitated by the Fire Service, noting that beyond faith in God for divine protection of lives and properties, the safety responsibility lies in the people and the University is unremittingly committed to it. He noted that community development is one of the tripartite responsibility of the University, and therefore, appreciated the officers for the impact they have made on the community.
Today @ LMU
Omu-Aran, NGclear sky 20.27oC
See More >>
Subscribe to our Newsletter
Get the latest news and updates by signing up to our daily newsletter.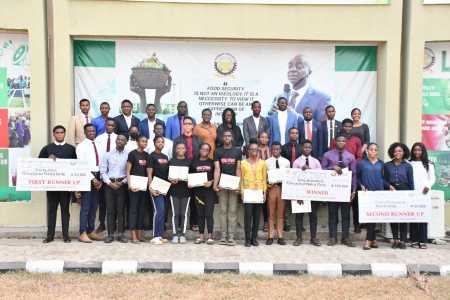 Story of the week
LANDMARK HOLDS INNOVATIVE CHALLENGE TOWARDS