LMU HOLDS 5TH INAUGURAL LECTURE
On the 26th April 2018, Professor Christian Osueke called for the adoption of automation as the major catalyst toward achieving agricultural growth and economy development. Osueke, a Professor of Mechanical Engineering in Landmark University, Omu-Aran, made the call while delivering the institution's 5th Inaugural Lecture titled "Divine Secrets: The Booster of Innovative Design and Automation". He said such adoption became necessary in order to reduce production cost and eliminate waste. According to him, the continuous application of muscular efforts in form of hand pressure leads to fatigue, loss of concentration and inaccurate production.
Osueke defined automation as entailing the use of machines and material handling equipment to carryout manufacturing processes with high level of speed, consistency and precision beyond the capacity of human. He maintained that the world is presently in the era of innovative design and automation, soft and hardware usage toward achieving an enhanced productivity, saying that Nigeria should not be an exception. "Technology determines the level of nations' security, technology eradicates food insecurity. We are in the era of adaptive control, the era of innovative design and automation, the era of soft and hardware usage in enhancing productivity," he said.
The don said the country is presently in dire need of transformation and economic development, saying, "It is the local content technological revolution that can assist in achieving such desired transformation. The nation cannot continue to depend on imported technology and food and expect it to be classified as a developed nation. Rather, innovative design and automation is the answer to the technological revolution and self-sufficiency through the release of divine secrets," he said.
Osueke who decried the nation's poor and inadequate energy regime said such could be a hindrance toward achieving the desired technological breakthrough. He said that the imbalance between rates of energy supply and demand was responsible for the high cost of goods and services being presently experienced across the country. "Industries were forced to generate their own power in the course of production while residential homes are not left out in the energy demand. Almost all Nigerian homes now have standby generating sets, despite the abundant supply of natural resources like coal, hydro, natural gas, crude oil etc. He maintained that government's efforts toward strengthening the private sector as engine of growth through improve efficiency and waste reduction could only be achieved by efficient electricity generation. He suggested building of more power stations so as to meet the projected power demand by 2030 which has been estimated to be 297,900 MW.
The Vice-Chancellor, Professor Adeniyi Olayanju, in his remarks, reiterated the institution's commitment to upholding functional capacity as a means of driving solution to societal challenges. He said the institution attached utmost priority to spiritual core values, saying such had earned the university access to the divine secrets that had continued to define its operations and accomplishments. "It is a great privilege to have a spiritual father, an exemplary leader and visionary of high repute as our Chancellor, Dr. David Oyedepo whose support for quality education cannot be overemphasized. This is evidenced in his immensurable investment in Landmark University, the conducive environment created for raising not only global leaders but also deserving professors from young academics."
Today @ LMU
Omu-Aran, NGclear sky 20.37oC
See More >>
Subscribe to our Newsletter
Get the latest news and updates by signing up to our daily newsletter.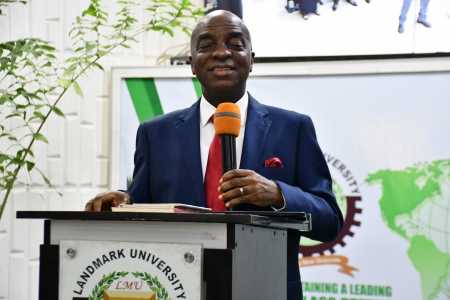 Story of the week
LANDMARK HOLDS 2022 STAFF EXECUTIVE ADVANCE