Infrastructure Deficit the Bane of Underdevelopment in Nigeria
Professor (Mrs.) Gloria Elemo, the Director-General of the Federal Institute of Industrial Research, (FIIRO) on Thursday, July 12, 2018 identified Nigeria's huge infrastructural deficit as a militating factor for its disstunt growth and underdevelopment.
Professor Elemo who specializes in Nutritional Biochemistry made the assertion during the 5th convocation lecture of Landmark University titled, "Driving Agriculture Revolution: A spur for Industrial Breakthrough and Sustainable Development." She said that such deficit was also responsible for the nation's being classified as one of the least competitive economies as listed in the recent report by the World Economic Forum. Professor Elemo maintained that the noticeable infrastructural deficit clearly indicated that the nation's industrialization efforts, both past and current, are not enough to create the enabling environment to witness the desired transformation. According to her, our technological readiness is 112th out of 137; infrastructure is 132 out of 137 and higher education at 116th position when compared to 137 other economies of the world.
"Nigeria is still awaiting an industrial breakthrough especially since the oil boom has failed to deliver on its potentials to build infrastructure across sectors and increase our wealth. Today, Nigeria cannot be called an industrialized nation. For one, we have a huge infrastructural deficit which is clearly linked to our poor economic growth and development," she said.
The FIIRO Director-General said other bottlenecks impeding the nation's economic growth include corruption, insurgency in parts of the country, severe weather condition, poor access to finance, policy instability and poor public health issues. She, therefore, suggested massive investment in the nation's agricultural revolution as panacea toward achieving an industrialized economy. She also stated the need to invest in the Micro, Small and Medium Enterprises (MSMEs) sector as they are the engines that drive the economy.
"The economic issues facing Nigeria might seems huge and insurmountable, however, it is often said that in the midst of difficulties, lies opportunities. One area where we do have a natural advantage is agriculture. We have huge and diversified human resource with a significant population working in the agriculture sector. If we can channel this resource properly it could bring Nigeria prosperity," she added.
She expressed the readiness of her Institute to collaborate with Landmark University in bringing about the desired revolution and transformation of the nation's economy through research and development in agriculture.
In appreciation of the insights inspired by the lecture towards nation building, the Chancellor and Chairman, Board of Regents, Dr David Oyedepo, in his remarks, expressed the need for continued creation of enabling ambience for the younger ones to thrive in agriculture as a profession. According to him, this ambience equips them to take their destinies in their own hands without being liabilities to their world. He enthused the graduating students and Nigeria at large to leverage the opportunities in agriculture to achieving sustainable development, stating that food remains most relevant and ever in demand as long as man exists.
"The black race has been humiliated for long because we will not take responsibility. The insight unveiled in this lecture must be pursued with every sense of mission. Nigeria is long overdue for a transformation. Opportunities in agriculture will transform a nation as big as ours. With our growing population, we start to die of starvation if we don't go back to agriculture. I believe that the partnership between Landmark University and FIIRO will go a long way to advance this cause," he added.
Earlier, the Vice-Chancellor, Professor Adeniyi Olayanju, in his welcome address had expressed optimism that the lecture would be a catalyst in the institution's quest to provide solution and driving actual change the society deserves for a secured future. He commended the management faculty, staff and students of the institution for their unalloyed support at all times.
Today @ LMU
Omu-Aran, NGclear sky 20.37oC
See More >>
Subscribe to our Newsletter
Get the latest news and updates by signing up to our daily newsletter.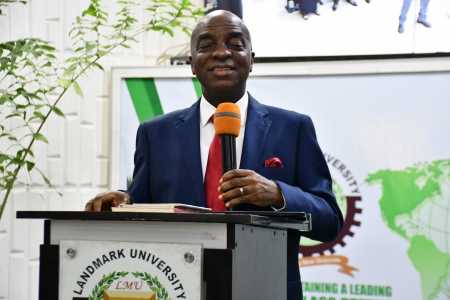 Story of the week
LANDMARK HOLDS 2022 STAFF EXECUTIVE ADVANCE