EXPERT ADVOCATES APPROPRIATE FARM PRODUCE PRICING REGIME TOWARDS AGRIC MODERNISATION AS LMU CLOCKS SEVEN
A doyen of Agricultural Extension and Rural Development, Professor Akinwumi Moses Omotayo, has on Friday 23rd March, 2018, advocated the provision of appropriate pricing for farm produce by government and development practitioners as a way of modernizing the agricultural sector.
Professor Omotayo made the call during his lecture titled, "Opportunities and Challenges of Modernized Agriculture in Nigeria: The Higher Education Perspective" which he delivered at the Landmark University's 7th Founders Day celebration held at the Multipurpose Hall of the University. He said such appropriate pricing regime became imperative in order to avail farmers with a minimum guaranteed price on farm produce to boost their morale, production, yield and income.
Professor Omotayo decried the situation whereby Nigerian farmer subsidizes every consumer to the tune of between 50 and 1000 percent for different categories of commodities in the value chain. He said although the minimum guaranteed price scheme is already in place, saying that such had failed to address the problem of pricing comprehensively. "The average Nigerian farmer produces a cob of maize at N20 and is forced to sell it between N5 and N10. A major problem with agriculture in Nigeria, which requires a special attention by government and development practitioners is appropriate pricing of farm produce. More importantly, if agriculture must be modernized," he said.
Professor Omotayo pointed out that threat associated with huge post-harvest losses was constituting a hindrance to modernizing agriculture and attaining food security in Nigeria. According to him, such losses have been estimated to be as high as 20 percent. He called for the active involvement of the nation's 774 Local Government administrations in the governments' Agriculture Transformation Initiative to achieve the desired result. "Some may argue that inadequate funding hampers Local Government involvement in agricultural development in Nigeria. It is on record that even when fund were available, Local Governments mismanaged their resources," he said.
Professor Omotayo suggested the introduction of conditional grants not only to allow the Local Governments to actualize their constitutionally mandated roles and responsibilities and translate financial autonomy into active economic development at the grassroots level. This, he said, would also ensure that funds are located through such grants are specifically on projects they are meant to serve. He said there was disconnect between what tertiary institutions are teaching and the needs and demands of farmers, agro-industrialists and other practitioners in the agriculture sector. "There are three Federal Universities of Agriculture, over forty Faculties of agriculture, about 25 colleges of agriculture and 18 agriculture or related research institutes in Nigeria. With these in place, one would have thought that the framework for modernizing the sector is firmly entrenched. Unfortunately, this is far from the truth. "There appears to be a mismatch or disconnect between the institutions teachings and the demand of farmers," he said.
The Vice-Chancellor, Professor Adeniyi Olayanju, in his welcome remark, had earlier stated that the institution's vision was born out of a passion by Dr. David Oyedepo, the Chancellor of the University, for change from unsatisfactory status quo to unprecedented transformation of the black race in the scheme of development across the globe. "To God be the glory, Landmark University has been living its Vision and has over the years, distinguished herself with respect to excellent teaching and learning facilities. This also includes promoting mechanized agriculture and product development as well as fostering gainful value chains in agriculture" he added.
He listed the institution achievements to include deliberate expansion of the farm capacity in the areas of egg production, meat production, rice cultivation, and cassava processing unit. Others are collaboration with renowned farmers, reputable organizations, accomplished Agripreneurs, world-class universities in driving food sufficiency agenda. Professor Olayanju implored the gathering to make good use of the lecture for the actualization of the sustainable agricultural practice in the course of realizing the Sustainable Development Goals.
Today @ LMU
Omu-Aran, NGclear sky 20.37oC
See More >>
Subscribe to our Newsletter
Get the latest news and updates by signing up to our daily newsletter.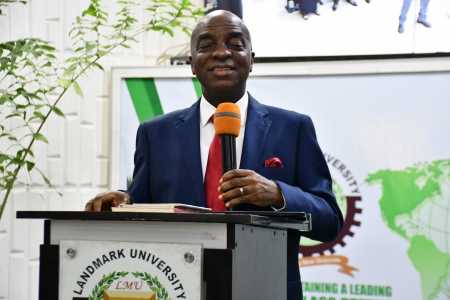 Story of the week
LANDMARK HOLDS 2022 STAFF EXECUTIVE ADVANCE