EXHIBITIONS AT THE 5TH CONVOCATION CEREMONY
Encomiums were not in short supply from the mammoth gathering of academics, entrepreneurs, and researchers who joined the University for the 5th Convocation Ceremony, the release of the Class of 2018 Pathfinders. As customary to the University, Exhibition does not only accommodate Landmark University's products which signpost the research and development engagements in the University over the years but also draw farmers and other professionals from the agricultural and sundry industries to display their products and most recent innovations for the benefit of mankind.
With much excitement and anticipation of the innovations, the exhibition was declared opened by the Chancellor, Dr. David Oyedepo after the Convocation Lecture delivered by Professor Gloria Elemo, Director-General/CEO, FIIRO.
This year's Exhibition focused on agricultural mechanization which has been the drive of the University since the 2017/2018 academic session began. The University had on display products from the Teaching and Research Farm, the Commercial Farm, College of Agricultural Sciences, College of Science and Engineering, Centre for Entrepreneurial Development Studies, and Landmark University Development Ventures. Special features on Hydroponics (Soilless Agriculture) and the University IGR Directorates. Some Landmark University Partners such as AmuGold, NCAM, CAVA II, BICS CONCEPT and FIIRO were not left out at the exhibition tagged "Towards achieving sustainable development and industrialisation".
Today @ LMU
Omu-Aran, NGclear sky 20.37oC
See More >>
Subscribe to our Newsletter
Get the latest news and updates by signing up to our daily newsletter.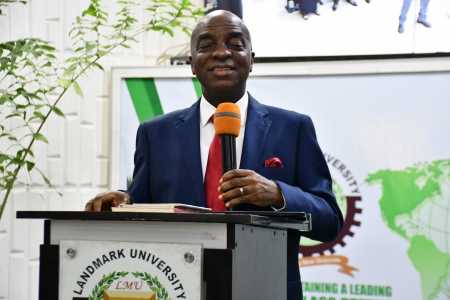 Story of the week
LANDMARK HOLDS 2022 STAFF EXECUTIVE ADVANCE