ACCA UNFOLDS PLAN TO ENHANCE ACCOUNTING EDUCATION IN LANDMARK UNIVERSITY
Quality education entails knowledge, skill and provision of tools that will make students productive in their future career. This was the motivation for the Association of Chartered Certified Accountants (ACCA) Nigeria as it unfolded plans to enhance accounting education in Landmark University in a meeting with the University management on Tuesday, 30th July, 2019.
While addressing the management on their plan, the Head, ACCA Nigeria, Mr. Thomas Isibor, state that the move was to maximize the existing relationship between the organizations, noting that partnership has been central to their ability to deliver their services internationally and strategically make their choices with the aim of expanding their network, thereby fulfilling their mission. He stated further that the focus of the association in Nigeria is to support the ambition of the Nigerian citizens, most especially accountants and financial professionals in the University, by developing them for global solutions and competitive opportunities. He added that Landmark University, being one of their major partners, would benefit from their accelerated programme intended to develop well-rounded ACCA finance professionals through rich teaching and learning support resources. He said that it would strongly enhance the Department of Accounting and the students in the University in terms of employability and network globally.
In his remarks, the Vice-Chancellor, Professor Adeniyi Olayanju lauded the the association move towards adding value to the University in particular and global positioning of the nation in general. He commended them for the success of their collaboration with the University, noting Tobi Oladiran's milestone who was one of top three affiliate members in Nigeria in 2017, the certification of both students and staff of the University as well as the exemption given to the University.
"We are happy to receive you on our amazing campus, noting your laudable achievements and what we have both attained together. This is obvious even amidst our faculty and staff who are members and stakeholders of the association… Collaboration and partnership is the fastest way to the growth of any institution and ultimately the economy," he noted.
The Head of Department, Accounting, Dr. Ben Caleb in agreement asserted that there are great opportunities for the department in its collaboration drive towards excellence. He said the department has created a robust and an enabling platform for various professional bodies to add value to the department and equip the students for global excellence and be the best in the world, noting that the accounting profession is too big for just one professional body to handle.
Today @ LMU
Omu-Aran, NGclear sky 23.84oC
See More >>
Subscribe to our Newsletter
Get the latest news and updates by signing up to our daily newsletter.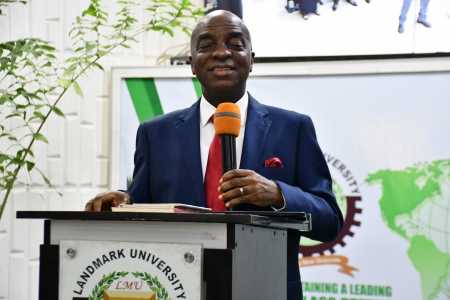 Story of the week
LANDMARK HOLDS 2022 STAFF EXECUTIVE ADVANCE