EXPERT ADVOCATES ENGINEERING ENTREPRENEURSHIP AS LANDMARK PREPARES STUDENTS FOR GLOBAL ECONOMY
It is the hallmark of Landmark to prepare her students for the sustainability of global economy in line with her mission, one of which is to raise a generation of solution providers through a qualitative and life-applicable training system that focuses on value and creative knowledge. The College of Engineering, on Tuesday 26th March 2019, organized a seminar which exposed the student population to engineering entrepreneurship towards reducing the rate of unemployed and unemployable graduates in the Nigerian economy. It challenged them to think in the direction of acquiring relevant entrepreneurial skills to own their business or become entrepreneurs that work in establishments globally. Facilitated by Engr. Abiodun Oyedepo, an expert and experienced 'enginpreneur', who drew a parallel between engineers and entrepreneurs from his experience to demonstrate the possibility of positive developments in the economy in spite of the anti-business climate that exists in the country as a result of poor infrastructural support, high cost of doing business, multiple taxations among others, the seminar advocated that a true 'enginpreneur' is never limited by environmental factors but the environment often times provides him or her with exploitable opportunities. Speaking further on what he titled, "Engineering entrepreneurship: an overview", he noted that engineers like entrepreneurs distinguished themselves by their ability to solve complex problems and implement solutions in cost effective and practical ways. However, he noted that, it is not necessary that every entrepreneur should have a background in engineering, but it certainly can be a positive influence. "An engineering education gives an engineer the necessary characteristics that can make a new enterprise succeed. An engineer knows how to solve problems, will stay positive, can build a team and will never stop learning new things," he added. He therefore charged them to engage the opportunities their engineering education has afforded them to their own advantages for the benefit of mankind.
While declaring the seminar open, the Vice-Chancellor, Professor Adeniyi Olayanju, reiterated the need for the development of entrepreneurs for sustainable economic development in Nigeria. He noted that the current socioeconomic reality in Nigeria is a veritable opportunity awaiting exploration of skillful entrepreneurs. He reiterated the agricultural focus of the University across board, noting its nexus to the discourse of engineering entrepreneur for sustainable development. "We remain focused and committed to developing the scope of agripreneurship. This is obvious in our trailblazing stride as the first University to award certificate on Agripreneurship Programme in Nigeria. In the same breath, we sustain the spirit and practice that help students build important knowledge and business acumen, which is why this well thought out seminar is given preference, knowing fully well that such gesture will help our budding entrepreneurs achieve success," he added.
He therefore expressed assurance of the positive impact of the seminar on the entire College of Engineering towards having a successful career in Engineering. "It is a common testimony that some professors, researchers, professionals and even students started their own companies as a result of an idea sparked by creative thinking. This is our dominant driving force that birthed across colleges our seminar series and mentorship opportunities for individuals, students in particular, to understand how to hone their entrepreneurial spirit. By this we demonstrate our commitment to nurture a culture of entrepreneurship within our campus and promote town-gown benefits therein," he said.
Today @ LMU
Omu-Aran, NGclear sky 19.74oC
See More >>
Subscribe to our Newsletter
Get the latest news and updates by signing up to our daily newsletter.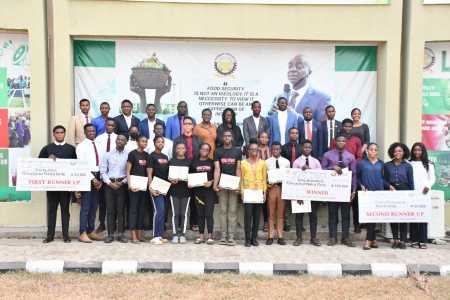 Story of the week
LANDMARK HOLDS INNOVATIVE CHALLENGE TOWARDS