LANDMARK TAKES MEASURES AGAINST COVID19
The Management of Landmark ably led by the Vice-Chancellor, Professor Adeniyi Olayanju, has taken practical steps towards preventing the spread of Coronavirus (COVID-19) in the University community.
Keeping the academic community informed during this time is a major measure essential to ensuring their safety and productivity as they navigate through the season and adapt to the sudden change reality. The University has been proactive in sensitizing its employees and the entire academic community early and often on the coronavirus pandemic through emails and the various social media platforms for the community.
One of the informative and directional emails circulated by the Acting Director, Health Services, Dr. Joseph Olisa, on 2nd March 2020, contained an infograph and a video detailing the definition of Coronavirus, its incubation period, symptoms of the virus, as well as how it spreads. The materials likewise contained preventive measures and treatment, so as to demystify the pandemic.
In the accompanying message, Dr. Olisa stated that, "As a context, we are most certain of God's protection and safety as always. However, as a proactive initiative going forward, it is highly recommended that we begin to engage the preventive hygiene measures as highlighted in the attachments for improved personal health and enhancement of our herd immunity as a university community!
"Furthermore, other health and safety measures are being put in place across physical structures and conveniences on campus to mitigate any threats to our personal and collective wellbeing."
Giving expression to the measures, the Health Services personnel led the circulation of hand sanitizers to all offices in the University and installation of hand sanitizer dispensers at the entrances of physical structures and conveniences across the University. In furtherance of these safety measures, face masks and gloves were circulated to the security operatives at the University gate and the various entrances being the first points of call to accessing the community.
In a recent development to reduce contacts and maintain social distance, the University on Monday, 16th March 2020, suspended all its meetings with the external context as well as cancelled all University gatherings in spite of the non-existence of Coronavirus case in Kwara State.
On Saturday 21st March 2020, the Management of the University announced the suspension of academic activities for students as well as their release to go to their various homes in compliance with Federal Government and NUC's directives towards curtailing the spread of the virus.
Management, therefore, enjoins the entire community to maximise the various measures in place as it is their wish that the community stays safe, while relying on God's intervention to put an end to the ravaging pandemic and restore peace to the world
Today @ LMU
Omu-Aran, NGlight rain 29.25oC
See More >>
Subscribe to our Newsletter
Get the latest news and updates by signing up to our daily newsletter.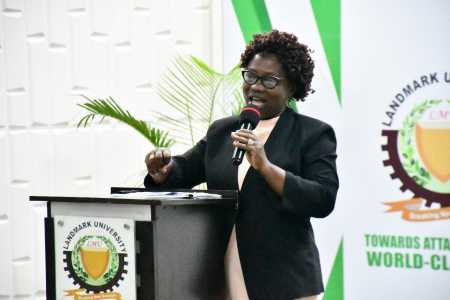 Story of the week
ACTING VC UNVEILS URGENT ACTION PLANS TOWARDS VISION REALIZATION