LANDMARK INAUGURATES 36 COMMITTEES
On Tuesday 8th October 2019, the management of Landmark University led by the Vice-Chancellor, Professor Adeniyi Olayanju has inaugurated 36 committees to oversee various departments of the University's system with a view to joining hands with management and further moving the University to limelight. The inauguration which took place at the Landmark University International Conference Centre saddled them with the responsibility to further foster and ensure qualitative teaching and learning, solution-driven research and quality service delivery within the University system that will culminate in the advancement of the vision of the University.
Speaking at the event, the Vice-Chancellor, Professor Adeniyi Olayanju remarked that such development is apt for the effective running of an institution whose vision is aimed at attaining world-class status. "It is traditional to have assistants because no man is an island; committees need to be in place as the University drives towards moving Landmark University to limelight of global relevance. And remember that as Landmark moves forward the members of its community move along with it," he said. Professor Adeniyi used the platform to congratulate the newly promoted members of Faculty of the University as he charged others to keep the good work and look unto God who is the true promoter.
While speaking on the event earlier, the Registrar, Miss Fola Oyinloye, had emphasised the relevance of creating committees in an institution. "We are here to put things in context, to know where we are and where we are going. It is no news that every University needs committees. The committee system is essential and allows the University management to work effectively." Miss Oyinloye appreciated past committee members who have sacrificially served in different capacities as being true ambassadors of the University while she urged the newly inaugurated committee members to improve on the achievements of the outgone members.
Among other committees inaugurated are the Accreditation Committee, Senate Curriculum Committee, Strategic Planning Committee, Central Purchasing Committee, Student Disciplinary Committee (SDC), Operation Subscription By All Means (OSBAM), Landmark University Centre for Agricultural Mechanization (LUCAM) Committee, Landmark University Waste to Wealth & Energy Initiative Committee, LMU Industry Linkage Committee, LMU Handbooks Observation Committee. Others include: LMU Farms Committee, LMU LUGTECH Committee, LMU Cattle Cooperative & Artificial Insemination Committee, Transport Committee, LMU Stores Committee, Food Monitoring Committee.
The Vice-Chancellor, Professor Adeniyi Olayanju giving his remarks at the inauguration of new committees for the 2019/2020 academic session.

The Registrar, Miss Fola Oyinloye welcoming members to the inauguration ceremony of Landmark University committees for the 2019/2020 academic session.

A cross-section of the University management (front row) inauguration ceremony of Landmark University committees for the 2019/2020 academic session.

Management members, flanked by the various chairs of the committees newly inaugurated for the 2019/2020 academic session.
Today @ LMU
Omu-Aran, NGbroken clouds 25.33oC
See More >>
Subscribe to our Newsletter
Get the latest news and updates by signing up to our daily newsletter.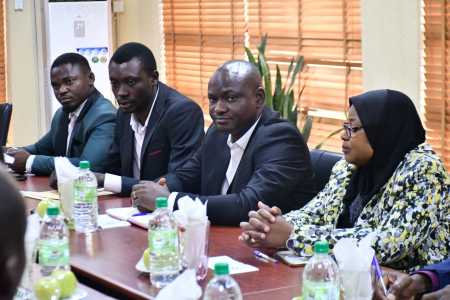 Story of the week
SON KWARA STATE SEEKS COLLABORATION WITH LANDMARK