LANDMARK TO REPRESENT NORTH CENTRAL ZONE
Landmark University has recorded another giant stride as students of the College of Engineering are set to represent the North Central Zone at the 5th CODET National Engineering Competition Finals. This development came as a result of the outstanding performance of the Landmark team at the zonal round of the competition at the University of Ilorin and was hosted by the Dean, Faculty of Engineering Professor D. S Ogunniyi.
Landmark team received the first runner up and the second runner up prices in the single and joint categories of the competition displaying the three projects selected from the collection of the final year students project from the college of Engineering.
Olowoeyo Blessing of the Department of Agricultural and Biosystem Engineering with a project under the direct supervision of the Vice Chancellor, Professor Adeniyi Olayanju, titled "Design, Development and Evaluation of a Locust Bean Dry Depulping Machine" came 2nd in the single category, Omolewa David of the Department of Mechanical Engineering bags the 3rd position in the single category with the project "Comparative experimental study of three improved charcoal cooking stove", while the team from Agric and Biosystems Engineering emerged the 2nd runner up at the joint category with project title "Design and development of infrared heating device and its application in the peeling of beetroot, turmeric and Irish potato".
With this development, Landmark University Students will join their counterparts from University of Ilorin and Joseph Sarwuan Tarka University, Markudi to represent the North Central Geo-political zone at the final stage CODET National Engineering competition.
Speaking on the competition, Mr. Noah Olaibi, the Student Development Officer, who praised the Landmark team for clinching the first runner up and second runner up positions stated that despite the short notice given, the students showed tenacity and possibility mentality hence the positions awarded. Mr. Olaibi revealed that preparations are in top gear for the finals as he is optimistic that Landmark team would perform more brilliantly. Mr. Olaibi in furtherance appreciated Landmark Management for supporting the students to participate in the competition exposing them to their mates from other institutions thereby preparing them for the work life.
In all, seven participants from four universities namely Landmark University, University of Ilorin, Kwara State University (KWASU) and Joseph Sarwuan Tarka University, Makurdi represented the zone at the regional competition.
Today @ LMU
Omu-Aran, NGbroken clouds 25.33oC
See More >>
Subscribe to our Newsletter
Get the latest news and updates by signing up to our daily newsletter.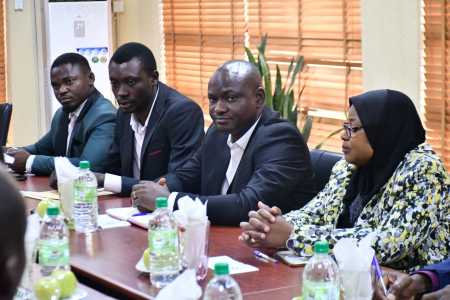 Story of the week
SON KWARA STATE SEEKS COLLABORATION WITH LANDMARK