NIAE INAUGURATES OMU ARAN 2019 COC
Preparatory to hosting its 20th International Conference and 40th Annual General Meeting tagged, "OMU-ARAN 2019" in September, the National Executives and Members of the Nigerian Institution of Agricultural Engineers (NIAE), on Monday 4th February 2019, converged in Landmark University to inaugurate the Conference Organizing Committee (COC).
In his welcome remarks, the Vice-Chancellor, Landmark University, Engr. Professor Adeniyi Olayanju expressed his delight over the privilege given his Institution to host the International Conference. "It is a privilege for LANDMARK to be given due consideration to host the 2019 edition of NIAE Conference. We sincerely appreciate everyone who supported us in our bid for the hosting right and we promise that we will not disappoint you all". The Vice Chancellor stated that the 2019 conference is coming at a time when stakeholders at all levels in the nation seek alternative sources of revenue, create sustainable jobs for the teeming youths and provide panacea to farmers/herdsmen clashes. He noted that with the apt theme of the conference, "Innovations and Technologies for Sustainable Agricultural Mechanization and Livestock Transformation for Economic Growth", participants would be encouraged to proffer solution, generate concrete ideas and suggestions that can project agricultural engineering to youths and the general public. Professor Olayanju, thereafter, assured the Institution, of Landmark's readiness to host the event as he admonished the COC to work assiduously towards a successful OMU-ARAN 2019.
The NIAE National Vice-Chairman, Engr. Professor J.O. Olaoye while inaugurating the COC urged them to deliver maximally beyond the expectations, adding that the standard expected from Landmark 2019 should not be compromised. He added that the conference theme has been grouped into five major sub-themes to accommodate the trends in global research records. In his remarks, the NIAE North Central Regional Chairman, Engr. Professor P.A. Idah, revealed that the gathering will birth a document charting the roadmap for agricultural engineering in Nigeria.
The OMU-ARAN 2019 Conference Organizing Committee (COC) is chaired by the Vice-Chancellor, Landmark, Engr. Professor Adeniyi Olayanju who is also a Fellow of the Institution.
Today @ LMU
Omu-Aran, NGclear sky 20.37oC
See More >>
Subscribe to our Newsletter
Get the latest news and updates by signing up to our daily newsletter.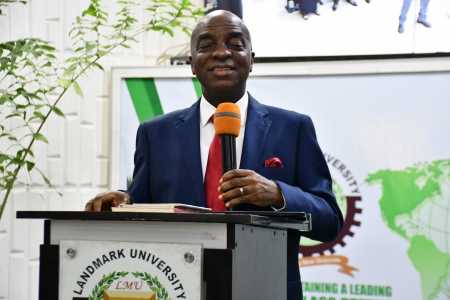 Story of the week
LANDMARK HOLDS 2022 STAFF EXECUTIVE ADVANCE