CENTRE FOR LEARNING RESOURCES HOLDS AUTOMATION BOOTCAMP
The Landmark University Centre for Learning Resources (CLR) in conjunction with Safe Alloys Engineering Technologies Limited organized a three-day workshop tagged, 'Library Automation Boot Camp' between Monday 5th and Wednesday 7th August 2019.
Speaking at the opening ceremony on Monday, the Vice-Chancellor, Professor Adeniyi Olayanju welcomed all participants to Landmark University and admonished them to make use of the opportunity to build capacity. He stated that the workshop which is aimed at projecting smart library, automation and scientific tools for research is another contribution to the academic world. While adding that automation is very essential for proper management of information resources in the 21st century library, automation he further enthused enhances proper management of large collections and the changing nature of library users, thereby deviating from the cumbersome traditional system of handling information.
Professor Olayanju in his address emphasized the aptness of the workshop as well as the impact it would have in the development of libraries in the country. "The changing trend in the digital age has made it imperative for Nigerian libraries to develop ways to manage and access library resources in electronic format and effectively share them. Quick access to information takes premium in user satisfaction and has been the main essence of library services that informs users' preference of the automated over the traditional system of information handling. Manual or traditional processing of information has lots of limitations which take its toll on user satisfaction", he added.
Also speaking, the Registrar Dr. James Ndako while congratulating the participants for being part of the automation workshop, urged them to keep updating their knowledge in library operations. "There are new trends now in Library Science all over the world, we hope you build capacity here where a new you would emerge. Capacity building keeps you inspired to avoid been expired". He revealed to the participants the essence of having a Center for Learning Resources, he said it is a departure philosophy from the normal university library aimed at providing an all-encompassing facility which would provide access to resourceful materials useful for the total development of man which is beyond reading for academic knowledge and certification.
The host, Dr. Jerome Idiegbeyan-Ose, who is the Director Center for Learning Resources, appreciated the University management led by the Vice-Chancellor, Professor Adeniyi Olayanju for the support shown to the center, availing them the privilege of organizing the maiden edition of the Library Automation Boot Camp. Dr. Idiegbeyan-Ose who also expanded on the need to always build capacity advised Librarians to live up to the demands of 21st century Library.
Professor Adeniyi Olayanju on behalf of the Chancellor, Dr. David Oyedepo later declared the workshop opened as he wished all participants a fulfilled and impactful workshop.
Today @ LMU
Omu-Aran, NGclear sky 18.84oC
See More >>
Subscribe to our Newsletter
Get the latest news and updates by signing up to our daily newsletter.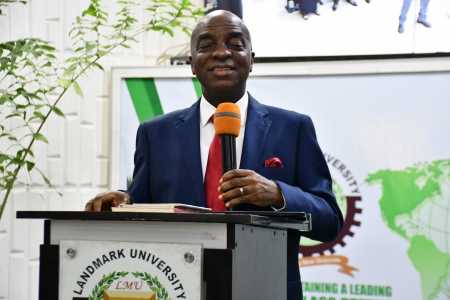 Story of the week
LANDMARK HOLDS 2022 STAFF EXECUTIVE ADVANCE