Engineering is Core to Nation Building VC Charges SWEP Students
The Vice-Chancellor, Professor Adeniyi Olayanju has charged the 200 level Engineering Students of Landmark University to see Engineering as core to nation building. He noted this on Tuesday 5th June, 2018 during the opening ceremony of the 2018 Student Work Experience Scheme Programme (SWEP) which runs for seven weeks in the University.
In his address, Professor Olayanju reiterated the tripodal mandate of the University which is teaching, research and community development, noting that Engineering is core to achieving the community development aspect of it. He emphasized that SWEP is the training aspect of teaching, as training is a window to hands-on experience after class learning. "As young Engineers, you must embrace knowledge, skills and attitude. SWEP is put in place to address gap in teaching because it is practical oriented for you to have hands-on experience. Knowledge is what you know; skill is what you do with what you know and attitude is how you do what you know. If you must be Engineers, you must know the practice and SWEP accords you this opportunity, as Engineering is core to nation building." He also enunciated that the impact of an Engineer must be felt in the society and that is where the community development aspect of a university takes its bearing. "This is the right time to start skills acquisition because it will stand you in the future. It is not all about grades in the long run, it is what you do with your hands that would stand a test of time and this is the best time to get it right." VC added while declaring the programme opened.
The Registrar, Dr. Azubuike Ezenwoke while welcoming the students, noted that SWEP promotes the concept of emphasis because that is where learning takes place. He said SWEP gives students the understanding of what they have been trained to do. He, however, warned that SWEP is a full academic programme, as rules and regulation guiding studentship still subsists. He also promised that products from the 2018 SWEP would be showcased within the University.
Also speaking, the Acting Dean, College of Science and Engineering, Dr. John Ojediran thanked God for bringing the students safely from the short break. He noted that the Nigerian Society of Engineers (NSE) investiture that took place in the University few days ago was an indication that the Engineering Programmes of Landmark University had been showcased to the world. He added the various projects have been lined up for the students to embark on, as the 2018 SWEP promised to be very exciting and rewarding. Dr. Ojediran thanked the Management for their support, Faculty and Staff for inputs and contributions to the successful outcome envisaged.
Today @ LMU
Omu-Aran, NGlight rain 30.15oC
See More >>
Subscribe to our Newsletter
Get the latest news and updates by signing up to our daily newsletter.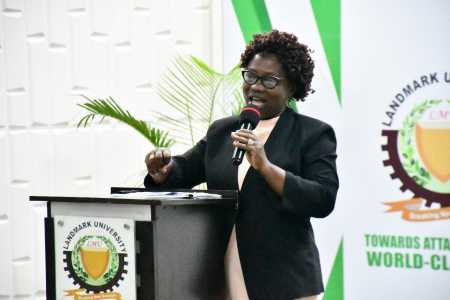 Story of the week
ACTING VC UNVEILS URGENT ACTION PLANS TOWARDS VISION REALIZATION