LANDMARK HOLDS 8TH CHANCELLORS CUP FINAL
The 8th Chancellor's Cup Competition for the 2019/2020 academic session was concluded on Saturday, 28th November 2020 with the male's final football match between Sociology/International Relations and Civil Engineering. The Civil Engineering team won the match by penalty shootouts to defend their championship, which made the department a two-time winner of the competition.
While declaring the event open on behalf of the Chancellor, Dr David Oyedepo, the Vice-Chancellor, Professor Adeniyi Olayanju stated the importance of the event to the University's context, saying that it has been fostering a balanced Landmark University student life since inception. Professor Olayanju noted that the domains of both sports and studies are different but complementary of each other. Alluding to the biblical reference in 1 Timothy 4:8 "For bodily exercise profiteth little…", the Vice-Chancellor said that the significance of the little profit of exercising the body could not be overemphasized in the general wellbeing of the students as it enhances not only their body fitness but also cognitive development for overall excellent academic performance. While commending the prevalent spirit of sportsmanship that has fostered remarkable peace in the University community, Professor Olayanju, admonished the University community to continue in the same spirit to sustain the unity and progress in the University.
The Registrar, Miss Fola Oyinloye, congratulated the Directorate of Student Affairs for the sustenance of the sporting event. She noted that it was almost impossible for the 8th edition to be concluded due to the pandemic that broke out. She then commended the entire members of the Directorate for their sense of responsibility and tenacity towards the Competition. She congratulated also the participants and encouraged them to embrace friendliness on the field of play, despite the competitiveness of the event, to forestall the occurrence of injuries. Miss Oyinloye also advised the officials to ensure fair play in line with the University's integrity core value while adjudging the match.
Earlier in his word of welcome, the Dean of Student, Dr Olukayode Adebimpe, had assured management and the University community of an exciting and hitch-free sporting event.

Following the final whistle were the presentations of gifts, medals and the trophy. The silver medals were presented to the Department of Mechatronics while Bronze went to Departments of Sociology/International Relations. The winner, Civil Engineering Department, received their Gold medals and the trophy in jubilation. Other presentations were the Highest Goal Scorer – Oloniyo Oloruntimeyin, who scored 4 goals, Most Valuable Player – Olorunfemi Temitope of Sociology Department, Best Keeper of the Competition – Oladeji Isreal of Electrical and Information Engineering department.
Today @ LMU
Omu-Aran, NGclear sky 20.37oC
See More >>
Subscribe to our Newsletter
Get the latest news and updates by signing up to our daily newsletter.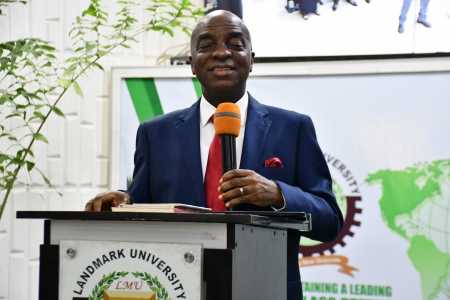 Story of the week
LANDMARK HOLDS 2022 STAFF EXECUTIVE ADVANCE