VC TELLS STUDENTS COMMUNITY TO MAXIMIZE THE POSITIVE POTENTIALS OF SPORTS
Obviously, the Civil Engineering Department started out with great determination to defend their championship, trashing their opponent, Computer Science Department, 2 goals to 1 in the kick off male football match for the 8th Edition of Chancellor's Cup on Saturday, 29th February, 2019. The annual sporting event remains a very essential meeting point not only for sport lovers but the University community at large as it continues to foster a balanced academic community of excellence. Other features for the event are female 5 aside football, basketball and volleyball.
Declaring the event open on behalf of the Chancellor, Dr David Oyedepo, the Vice-Chancellor, Professor Adeniyi Olayanju emphasized that the Chancellor's Cup competition is an integral part of the University's activities which is not just for the sake of competition but geared towards fostering the overall development of the students and good neighbourliness within the academic community.
'To everything, there is a time and there is a season. A time to study and a time to be examined. Now is the time relax and unwind. Like the Bible says, bodily exercise profits little but the little cannot be wished away because of its enormous benefits to the body,' he added.
Professor Olayanju cautioned the participants to see the competition from a friendly perspective in order to eschew all forms of contempt and violence. He, therefore, encouraged them to maximise the positive potentials inherent in the sporting activities, noting among others mental alertness, good team play, calculation, tolerance, and perseverance.
The Registrar, Miss Adefunke Oyinloye, in her remarks, thanked the Directorate of Students Affairs led by the Dean, Dr Oluwakayode Adebimpe, for their concerted effort towards ensuring a successful and successive Chancellor's Cup competition events in the University which she said continue to have a powerful impact on their overall education and life skills development of the students. She urged them, therefore, to abide by the rules of the game while aiming at the prize.
Also speaking on the event, the Chaplain of the University, Pastor Tope Johnson, emphasized the importance of bodily exercise to the students' wellbeing. He said plays a complementary role in the students' academic excellence by not only prepares them physically and mentally but also helps them to operate in the spirit of sportsmanship and fair play.
Expressing gratitude to the University for promoting a conducive and enabling academic environment thereby ensuring the overall wellbeing of the student populace, the Chairman, Student Council, King Zebulun Ojo, said that the competition has provided a platform for interaction and friendship across the borders of the University with greater expectations and prospects for the University and the society at large.
Today @ LMU
Omu-Aran, NGclear sky 23.84oC
See More >>
Subscribe to our Newsletter
Get the latest news and updates by signing up to our daily newsletter.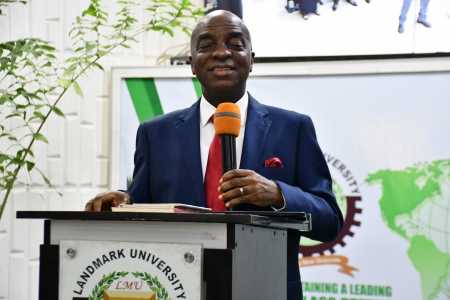 Story of the week
LANDMARK HOLDS 2022 STAFF EXECUTIVE ADVANCE