CHANCELLOR CHARGES MATRICULATING STUDENTS
On 16th November, 2018 the Chancellor, Landmark University, Dr. David Oyedepo has charged 824 matriculants to take advantage of the agripreneurship programme of the University during their sojourn in the institution, as food security is a major global concern and over one billion people are suffering from starvation, hunger and malnutrition.
"It is time for us to think, rethink and put actions to our thoughts in dealing with this monster of food insecurity and the impending danger of hunger and starvation among others, that we are being faced as a nation. Therefore, there is no better time than now for innovative, creative and inventive thinking. Regrettably, Nigeria has transitioned from being a self-sufficient country in food to being a worrisome net importer of agricultural produce. The need is growing, yet the hands on the plough are getting fewer by the day, to make food available to this ever-growing population. There is a lot in agricultural entrepreneurship, because food is a must for every living being."
Dr. Oyedepo stated further that Agriculture is an open door that shall not be shut night or day, while the earth remains, because every living thing shall continue to require food, as the nation is faced with unemployment issues with an estimated four million graduates from tertiary institutions roaming the streets.
"The cheapest way to become a job creator is to engage in agricultural practice. Agriculture is not just to earn a living, but to help others live. Agriculture is one endeavour that can never lose value. We as a people must wake up to the reality of charting pathway for strengthening the reins of our economy via productive and creative engagements in entrenching agro-enterprise."
He averred that until the nation succeeds in producing indigenous solution, it will never get to where it is going. In his words "it is very clear that United Nations will not take up any nation's responsibility. We must come awake to take responsibility to avert this impending danger. It is not surprising, therefore, that countries that have continued to downplay the place of agriculture in national development issues have had to contend with social problems such as poverty, famine, outbreak of preventable diseases, declining index of human development, conflict and general underdevelopment."

He further admonished the matriculants, to see the ceremony an opportunity to reaffirm their commitment to the values which Landmark University stands for and the dream set in place is to make them solution providers and leaders for their generation and time. "By your admission to this University you have become a part of the divine team to make this world a better place; the team to place Africa on the global map for good and to raise the dignity of the Blackman."
In the height of the exhilarating moment where mammoth crowd of parents, guardian and well-wishers were full of joyous expectations, the Vice-Chancellor, Professor Adeniyi Olayanju noted that Landmark University is a forward-looking and solution-seeking institution that has the potential to save and improve lives by uniting brilliant minds across disciplines to tackle the world's greatest challenges.
"We are committed to raising a generation of great thinkers and global leaders among whom will be some matriculating students of today. In this era when sound academic and moral knowledge drives innovation and development, it is incumbent on well-meaning parents to send their wards to University like ours where cost-effective leadership training is guaranteed along with cutting-edge research engagement and Christian ethos. As a foremost agriculture-based private University in Nigeria, with irrevocable commitment to exploration of hidden treasures in the mother-earth through which restoration of the dignity of the black race is feasible."
He appreciated the host community's Royal Father, the Olomu of Omu-Aran, Oba Abdulraheem Adeoti and his Council, and the good people of Omu-Aran community for fostering a peaceful ambience for the development of the University. He specially thanked the entire Living Faith Church members, Board of Regents, the Vice-President (Education), Living Faith Church Worldwide, Pastor (Mrs.) Faith Oyedepo for their unquantifiable support and the Chancellor, Landmark University, Dr. David Oyedepo, for his inspiring leadership.

Today @ LMU
Omu-Aran, NGclear sky 20.37oC
See More >>
Subscribe to our Newsletter
Get the latest news and updates by signing up to our daily newsletter.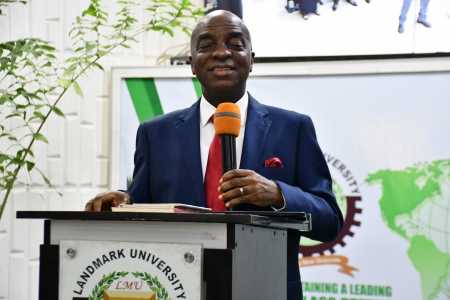 Story of the week
LANDMARK HOLDS 2022 STAFF EXECUTIVE ADVANCE