CHANCELLOR CHARGES ON PATHWAYS TO COMMANDING EXPLOITS IN ACADEMIC CAREER PURSUIT
The Chancellor and Chairman Board of Regents, Landmark University, Dr David Oyedepo has emphasized that complete reliance on God for inspiration is what makes great, saying that no man's wisdom can equate God's. He made this assertion at the Covenant University Faculty and Staff Executive Advance for the 2020/2021 Academic Session broadcast to Landmark University on Friday 8th January 2020.
Speaking on inspiration, the Chancellor said that "It is inspiration that brings the best out of any man," adding that "All Scripture is given by the inspiration of God and is useful to teach us what is true and to make us realize what is wrong in our lives. It corrects us when we are wrong and teaches us to do what is right." He noted that without inspiration, men will remain ordinary and without exploits on earth. He, therefore, cautioned that man must always acknowledge the wisdom of God at work in their lives to sustain it, noting that Solomon lost the gifts of God in his life the day he laid claim to them, for better is a poor and a wise child than an old and foolish king, who will no more be admonished [Ecclesiastes 1 and 4:13]. In reference to Apostle Paul in 1 Corinthians 15 verse 10 who acknowledged God's grace for exploits in his life, the Chancellor reiterated that there is no great man anywhere except by the backing of the great God because no man receives anything except he is given from above (John 3:27). He therefore urged participants to embrace labour that gives value to grace.
In furtherance of his charge, the Chancellor noted that "there is nothing mystical about excellence. It is simply a product of one's tireless commitment to improvement." While noting the negative impact of distraction on our system, he said it was the devil's weapon to deny men access to divine plan and inspiration for the full realization of their glorious destinies. 'If your eyes be single, your whole body will be full of light. Distraction has impacted negatively on our system. Life is about knowing where you are going. You need grace to engage in focused and productive labour,' he said.
Establishing that following God does not limit or bring any man down but sets them up in high places, the Chancellor gave examples of renowned scientists whose fertile minds for inventions could be traceable to their partnership with God. He said by inspiration through their spiritual engagements, they were able to create solutions mostly needed in the world. According to him, 'Michael Faraday had only two years of formal education. Later, he became a laboratory attendant with Sir Humphrey Davies – a professor, in no time, he became the envy of his master. He was a vast reader of spiritual materials. Michael Faraday was said to have extended his scientific education by the most formidable programme of reading. Faraday found an understanding of life's purpose by studying and believing the teachings of the Bible. He was a devoted Christian and he became an elder in his Church and a very celebrated preacher in his congregation. Whenever he travelled out for scientific lectures, the first thing he would ask in any city where he arrived was, "Where is the church?" Not surprisingly, Faraday, at forty-four, was recognized by all as the leading man of science! Michael Faraday invented electricity.' Other examples included James Clerk Maxwell – a productive scientist of the 19th century, Joseph Lister, Johan Kepler, Robert Boyle, Georges Vernier, James Simpson, John Ray, Matthew Murray, Rudolf Virchow amongst others.
To command the same exploits like the aforementioned scientists, Dr Oyedepo said individuals must crave for the inspiration of God through a genuine thirst and connectivity of one's spirit to the spirit of a carrier of such grace. He, therefore, proclaimed God's blessings upon the faculty and staff of the Universities and imparted them with grace for focused and productive engagement as they continue in the new academic session.
Today @ LMU
Omu-Aran, NGclear sky 20.37oC
See More >>
Subscribe to our Newsletter
Get the latest news and updates by signing up to our daily newsletter.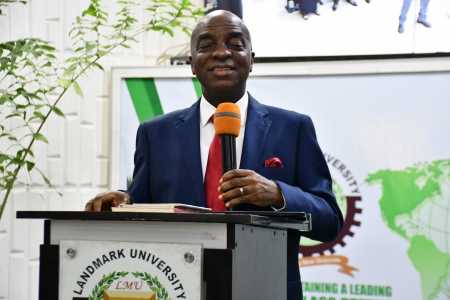 Story of the week
LANDMARK HOLDS 2022 STAFF EXECUTIVE ADVANCE