CHANCELLOR COMMISSIONS SURFACE DRIP IRRIGATION FARMLAND
The efficacy of irrigation systems to foster all-year-round agricultural activities as it relates to crop production has been brought to bear on the University Farms through the commissioning by Surface Drip Irrigation Farmland of the Department of Agricultural & Biosystems Engineering on 12th May, 2016 by the Chancellor, Dr. David Oyedepo. The Chancellor expressed delight over the project and charged the University to take advantage of the technology for optimum performance within the context of the University.
Earlier on when the project was completed, the Vice-Chancellor, Professor Aize Obayan, led members of the University Management for a pre-commissioning on the 3rd of May, 2016, where the significance of the Surface Drip Irrigation Farmland to the actualization of the University's agrarian mandate was brought to the fore. While describing the feat as a major breakthrough and historic for the University's Agrarian mandate, the Vice-Chancellor, Professor Aize Obayan stated that the commissioning of the Surface Drip Irrigation project came after the 35th Anniversary celebration of the Liberation Mandate of the University's proprietor base. She charged further that irrigation is one of the bedrocks of agrarian revolution and should be viewed as the next level for Landmark University as a community. "Talking about the next level for us as a University, this project is not only about the skills our students would get or the farm produce, but the benefit it presents for other departments as well in terms of teaching and research engagement." She however commended the perseverance of the Department for seeing the project to fruition, and appreciated God for the supply of resources and the multidimensional leadership of the Chancellor, Dr David Oyedepo. "By the grace of God, there would be great yields here," she concluded.
Narrating how Israel as a country had benefited from the project, the Head, Department of Agricultural & Biosystems Engineering, Dr John Ojediran noted that the irrigation system would enable any nation to manage effectively and efficiently its water, which he described as the backbone of Agriculture. He further appreciated Management for their support during the project.
The Senior Technologist in the Department, Mr Akande Elijah also highlighted how the irrigation systems of the farm would be optimally utilised.
Subscribe to our Newsletter
Get the latest news and updates by signing up to our daily newsletter.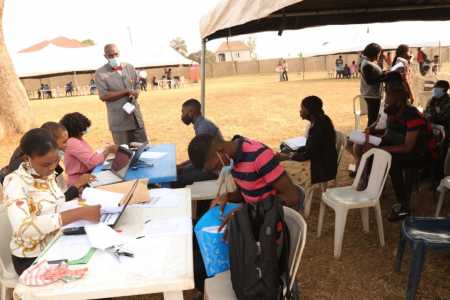 Story of the week
LANDMARK WELCOMES NEWLY ADMITTED STUDENTS