CHANCELLOR INSPIRES LMU COMMUNITY ON
On the 13th October 2015, Landmark University Community played host to the Chancellor, Dr. David Oyedepo at the Tuesday Chapel Service for the faculty, staff and students.
The Chancellor inspired the gathering on "Breakthrough Power of Vision". He defined vision as an access to the realm of unlimited breakthrough. He stated that God has specific plan for everyone in life, noting that vision is a necessity for all the Children of God that desire success in their endeavors. The Bishop said that for someone to gain access to God's purpose for his life, such person must be in the spirit and be willing to be led of God (Revelation 1:10, Galatia 5:25). He noted that vision makes one to enjoy peace and God's company (Isaiah 48:21, Mark 16:20). Speaking with emphasis on the supernatural insight man needs to progress in life, the Chancellor remarked that, "no one arrives at a future he cannot see; without vision life is grounded and destiny is stranded. Destiny would never walk to you but you run into it. Work your vision out or it would never see the light of day. It takes a run to make a vision fulfilled, as there is no end to progress until you stop pressing (Philippians 3 verses 15)."
Appreciating the Chancellor for his visit, the Vice-Chancellor, Professor Aize Obayan thanked God for the vision that birthed Landmark University and assured the Chancellor that all hands are on deck to ensure the fulfillment of the vision.
Professor Daniel Okunbor, a Fulbright Scholar and Professor of Computer Science, who was on a courtesy visit to Landmark University from Fayetteville State University, United State of America, had earlier addressed the University assembly at the service. He noted that his coming to the University has made a lasting mark on him, which he promised to take to Fayetteville State University. He implored the students to be proud of Landmark University and remain part of it even after graduation. "I have visited Covenant University but I was completely elated when I got here; please always be proud of this great University of yours," the erudite scholar submitted.
It was quite an inspiring time at the Chapel Service for the University Community, having received vibrant charge from the duo of the great Visioner and Servant of God, Dr. David Oyedepo, and a renowned international scholar, Professor Daniel Okunbor, which is crucial to the attainment of new frontiers in driving the world-class agrarian vision of Landmark University.
Today @ LMU
Omu-Aran, NGovercast clouds 21.75oC
See More >>
Subscribe to our Newsletter
Get the latest news and updates by signing up to our daily newsletter.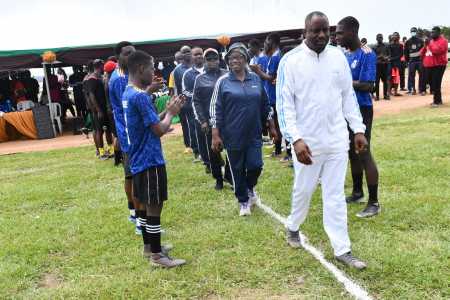 Story of the week
2022 CHANCELLORS CUP KICKS OFF