CHANCELLOR EXHORTS UNIVERSITY COMMUNITY ON FOOD FOR THOUGHT
The 9th and 10th November 2015 were not ordinary days to the entire community of Landmark University. They were noted to be the days of blessings as the Chancellor, Dr. David Oyedepo, graciously visited the Campus and exhorted the Congregation at the Multipurpose Hall with the message, 'Thought Seeds / Food for Thought and Faith a Potent Force', which has a far reaching influence on the generality of faculty, staff and students of the University.
At the beautiful night session of the Service on Monday, 9th November 2015, the Chancellor gave everyone a message of hope for restoration. He affirmed that there is no place called anywhere, as everyone belongs somewhere and staying at such a place is the only ticket that would guarantee predetermined destination. "You are the only one to know where you belong, without vision the people perish and abiding in your calling is the cheapest way to make it in life." Taking a clue from numerous challenges that have been converted to opportunities for a desired change, he noted that "there is no ordinary profession/place; it is our ordinary approach that makes a place ordinary. Every problem of a generation exists because the people of that generation are meant to solve those problems. The solution to problems of agriculture in Nigeria is here because we as a people have the capacity to solve them."
The Chancellor identified consumers mentality as a bane to driving self-sufficiency as a nation. "Consumers mentality results in mediocrity; you are either adding value to life or merely existing and not living. Every living thing stays alive because of the value they add to life and we should be filled with thought of contributions and not consumptions." He described the food crisis in the nation as opportunities for the current generation to thrive. "Life is an adventure in opportunities, the problem that exists in any generation only present an opportunity to the people of that generation." While noting the contributions of Private Universities to the educational sector of the nation, he said that "the Private Universities are the solutions to the educational challenges in the nation. As the nation is faced with food crisis, this is an opportunity to catch passion to solve the challenge. Those who live for self end as slave but those who live for others end as leaders."
Concluding his special charge on the day one of his visit, the Chancellor enjoined students of the University to make landmark impacts during and after their stay on campus. He reiterated that "food would forever be in demand, until life ceases to exist because agriculture is the most sustainable and enduring endeavor till Jesus comes. A time is coming when man would have farming added to his profession. Take full advantage of this thought, till change comes as nothing defines destiny like mentality."
On Tuesday, 10th November 2015, the Chancellor inspired the assembly at the Tuesday Chapel Service on 'Faith a Potent Force.' He described faith as the most spiritual and potent force existing in the Christendom. "Faith is obeying God's word so that you are able to commit him. It is God's word in us that brings about faith that generates good result." Quoting from the books of Hebrews 11:3, 10:33, he said "Faith is as real as God says it is, faith is a living force, drawn from a living word to produce a living proof. Faith comes by hearing and understanding the word of God." He further made mention of the ingredients which make faith produce results. These are hope and joy. Citing the books of Ephesians 6:16, Romans 4:17, Psalms 16:11, Ecclesiastics 9:4, 1 Thessalonian 5:6 and 1 John 5:4, he concluded by saying that " faith gives substance to hope and hope turns faith into reality. Faith finalizes our hope to reality because faith is helpless without hope and to build faith you need joy to access revelation. Joy guarantees our access to the deep revelation of God's word. But faith is no cheap work but hard work, the school of faith is a school of labour,"the Chancellor enthused the University Community.
Today @ LMU
Omu-Aran, NGovercast clouds 21.75oC
See More >>
Subscribe to our Newsletter
Get the latest news and updates by signing up to our daily newsletter.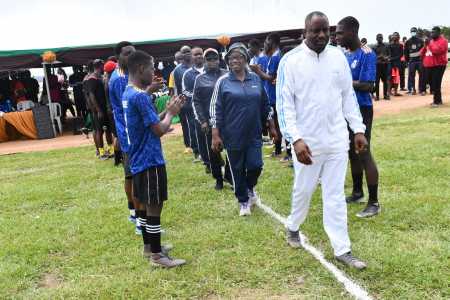 Story of the week
2022 CHANCELLORS CUP KICKS OFF