LMU VISITS NATIONAL CEREALS RESEARCH INSTITUTE
In furtherance of her effort to collaborate with relevant institutions both within and out the country, on Friday, 5th April, 2019, the Vice-Chancellor, Professor Adeniyi Olayanju led a six-man team from Landmark to the National Cereal Research Institute (NCRI), Badeggi, Niger State. The team was received at the Institute by the Executive Director, Dr. Aliu Umar who was represented by the Director of Research Operations, Mr. Bakare Oladele; Director, Outreach, Dr I. N. Kolo; HOD, Design and Fabrication, Alhassan M. Kuku and Engr. Saul Ethan.
Mr. Oladele, in his welcome address, stated that the National Cereal Research Institute, Badeggi was established by an Agricultural Research Order of 1975. It is one of the fifteen (15) commodities Agricultural Research Institute in Nigeria under the aegis of the Federal Ministry of Agriculture and Rural Development. The Institute is responsible for the genetic improvement of crops such as Rice, Sugarcane, Soybean, Castor, Acha and Beniseed.
The Institutes' research activities are carried out both in the Headquarters and the ten outstations located in different parts of the Country - Ibadan, Warri, Amakama-Olokoro, Uyo, Bacita, Mokwa, Birnin-Kebbi, Numan, Yandev and Riyom. He further spoke on their collaboration with both National and International Agricultural Research Institutes, Non-governmental Organization and Private Organizations. He however assured the team on the possibility of collaboration, especially on Rice processing and Beniseed, noting that the University is the first private University to make such move.
The Vice-Chancellor in his remarks expressed the University's interest in collaborating with the Institute on the production and processing of most of the institute's mandate crops.
The team was taken on a tour to the Design and Fabrication department where agricultural machines were developed such as Rice Wet Cleaner, Integrated Rice Milling Machine, Rice Winnowing Machine, Rice Boilers, Rice Reaper, Rice Thresher, Castor Processing Machine, Sugarcane Sterilizer, Sugarcane Juice Extractor, Evaporating Plant, Crystallizer and Centrifuge. The team was also taken to the Small Scale Brown Sugar plant and finally to the Technology Exhibition Centre. At the Centre, the team was shown the different elite varieties of Rice, Acha, Beniseed and model of Acha dehauler, Sugarcane Dicer and Nodule Extruder.
Aside the Vice-Chancellor, the University team consists of Dean College of Engineering, Engr. Prof. Christian Osueke; HOD Electrical and Information Engineering, Engr. Prof. Francis Ibikunle; Acting Coordinator Vice-Chancellor's Office, Engr. Olumoyewa Atoyebi; Engr. John Ramonu and Engr. Chinedu Ezugwu.
Today @ LMU
Omu-Aran, NGclear sky 20.37oC
See More >>
Subscribe to our Newsletter
Get the latest news and updates by signing up to our daily newsletter.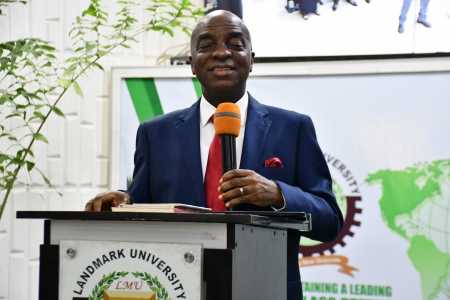 Story of the week
LANDMARK HOLDS 2022 STAFF EXECUTIVE ADVANCE