LANDMARK CAVA II HONOURS PASTOR FAITH OYEDEPO AT 61 WITH FARMERS FIELD DAY
On 6th February, 2019 the University community held a LANDMARK CAVA II Farmers' Field Day in special honour of the Vice-President Education, Dear Mama, Pastor (Mrs.) Faith Oyedepo in commemoration of her 61st Birthday Anniversary.
While welcoming Farmers from six (6) states (Kogi, Ekiti, Ondo, Osun, Oyo and Kwara), the Vice-Chancellor, Professor Adeniyi stated that he was full of great excitement to receive farmers and special guests to the programme which coincides with the birthday celebration of Pastor (Mrs) Faith Oyedepo and it is to further showcase the proof of the University's commitment to her agrarian vision.
"The entire Landmark community joins the whole world to appreciate God for His faithfulness upon her life as we heartily wish her a Happy and Prosperous 61st Birthday celebration. As a university, the occasion of your birthday – 5th February, has been one of the avenues to recount and celebrate your awesome contributions to the advancement of our vision of becoming a leading world-class university. Our celebration is anchored in the faithfulness of God for the fulfillment of the Dominion Prophetic Verdict of the year in your life and Ministry. We wish you renewed grace and strength in this New Year and beyond."
Noting that there is no better time to showcase the University's master feats in cassava production, other than the occasion for the celebration of Pastor (Mrs.) Faith Oyedepo's 61st Birthday, he reiterated that, the occasion hinges on the quest of the University Management to accentuate the values inherent in cassava farming and promote the research proven competitive varieties among neighboring farmers. In so doing, productivity and profitability will result, thereby making cassava farming venture worthwhile and dignifying labour on the farm.
Professor Olayanju appreciated all Landmark partners and stakeholders adding that the University is poised to expanding her collaboration base, signing memorandum of understandings with relevant and value adding organizations, institutions, professional and regulatory bodies both governmental and non-governmental towards enhancing the training of Our Students, Research Result Deployment and Community Impact.
Going down memory lane, the University scaled up her intentional drive towards enlightening, influencing and dignifying farmers in their frantic efforts at feeding the nation, which prompted a look out for like-mind organizations with a resolve to make cassava farming a gainful adventure. Then Cassava Adding Value to Africa became a perfect match, given its corporate objectives that align with our compelling vision of driving food security. The "CAVA II is a product of a negotiated transition and capacity building for African institutions" with which we proudly partnered to achieve Our Mandate. In view of the mechanized agriculture, product driven agenda and external grant winning inclination of this administration, the University Management engaged, on 28th November, 2017, the interaction of which was adjudged illuminating, inspiring and promising". Special Guests at the Occasion were the Cordinator of CAVA II, Professor Kola Adebayo, the Kwara State Commissioner for Agriculture and Natural Resources – Honourable Goke Bamidele, the representative of the ADPs and the neighboring farming communities.
Today @ LMU
Omu-Aran, NGclear sky 20.37oC
See More >>
Subscribe to our Newsletter
Get the latest news and updates by signing up to our daily newsletter.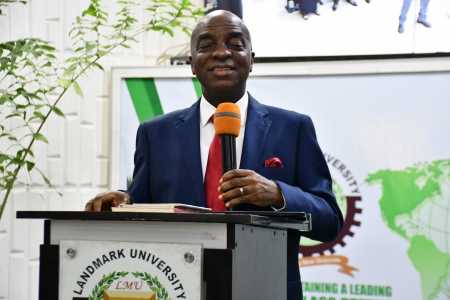 Story of the week
LANDMARK HOLDS 2022 STAFF EXECUTIVE ADVANCE